Yesterday Osborne was crowing over the fact that 43,000 more people found jobs last month as the economy continues to grow. And looking at the economic devastation crushing socialist Southern Europe, we should be very glad indeed that the British electorate stepped back from the brink of disaster last month and rejected mad Ed MiniBrand's plan for bankrupting our country.
This week I was in London and the amount of money being spent in shops, restaurants and on property is truly staggering. But there's a chart (which I hope readers will find interesting) which suggests that beneath the headline good news, quite a lot of people are people are not eating out every day in expensive restaurants, buying designer clothes and purchasing multimillion pound homes: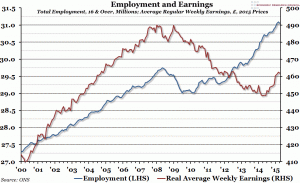 The chart shows both employment and earnings. The blue line, measured against the left hand axis in millions of people, shows the total number of people aged 16 and over in employment over the preceding three months. The red line, measured against the right hand axis in pounds, shows the average weekly earnings adjusted for inflation (so they are in today's prices), excluding bonuses and arrears.
What does the chart show? Employment growth since we passed the pre-crisis peak in late 2012 has been at a faster pace than before the crisis, leading to new employment records being set almost every month. Although the April figures were slightly worse than March, this is unlikely to be anything more than a temporary blip. However, many of the new jobs must be poorly paid as real average earnings are still well below the peak in 2009 (by almost £30 per week), although they have been growing strongly since June last year.
So, some good news on employment. Moreover, this will hopefully lead to reduced spending on benefits. But when you consider that the top earners have managed to hugely increase their earnings in spite of the financial collapse and recession, there must be a lot of people out there who are really struggling.
Oh, and in the Times today there's a story that's so absurd you couldn't have made it up. Apparently the economically-illiterate, financially-incontinent Ed Balls – the man who helped the useless sociopath Broon waste £1.5trn of our money and almost bankrupt Britain – is heading off to Harvard for a year to research "financial stability".
Well, Charles Dickens' Mr Micawber has already taught us all Ed Balls ever needs to learn about financial stability: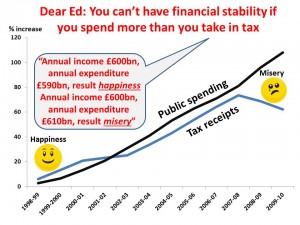 So now there's no need for Ed to go to Harvard for his important research after all.