One underlying theme of my books like SQUANDERED, FLEECED, PILLAGED and GREED UNLIMITED is that, whatever our governments (of whichever party) say, what we've actually had in Britain over the last 30 years has been a massive redistribution of wealth away from from those on lower and middle-range earnings and into the bank accounts of the well-off and the seriously wealthy: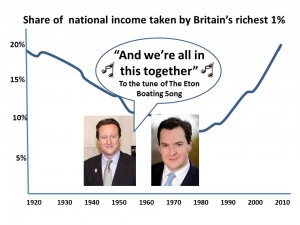 Perhaps this is most apparent in housing:
House prices have shot up much faster than wages (click to see more clearly):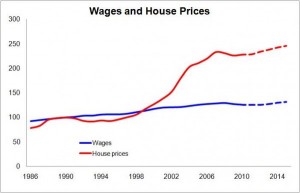 In 1985, the average house price was around 3.5 times the average wage, now it's around 10 times the average wage. But then what else would you expect when successive governments have allowed 46,000 people a month to flood into Benefits Britain for the last 15 years?
The house-price rise has resulted in a massive drop in the percentage of younger people owning a home, while the percentage of older homeowners has remained fairly stable: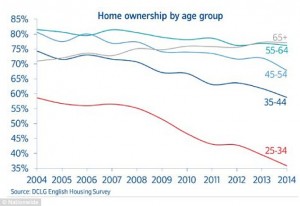 While rising prices may have kept the young out of the market, they have, of course, led to huge growth in the buy-to-let market: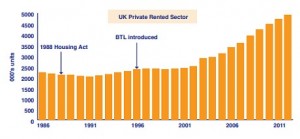 The rush into owning buy-to-let properties has put further upward pressure on house prices making it more difficult for the young to buy, thus giving more to those who have and making the chance of owning a home ever more remote for those who have not.
In just the last 10 years, the number of buy-to-let properties has almost doubled from just over 2 million to over 4 million:
Many of the people purchasing buy-to-let properties are doing so in desperation as their savings get little to no interest and their pensions are being looted by pension fund managers. But that rise of over 2 million buy-to-let properties means about 2 million younger people are renting now whereas just 10 years ago they could have been owners.
Some buy-to-letter have made fortunes, others are probably just keeping their heads above water. But now many older parents find they are having to use their savings, cash in their pensions, downsize or take out usurious equity release loans to get their offspring into the home ownership game.
But all may not be sun, light, money and laughter for the happy buy-to-letters. Tax changes tend to follow social changes. A big social change has been the rapid growth of buy-to-let. While owner-occupiers no longer get tax relief on their interest payments, the Treasury would be able to squeeze another £14bn a year out of us if it removed tax relief on buy-to-let mortgages.
I wonder how much longer our cash-strapped, financially-incontinent, overspending Chancellor will allow that lovely £14bn to slip through his fingers?
If I was a buy-to-let landlord (which sadly I'm not) I'd be looking at what would happen to my profitable little buy-to-let empire if I (and all the other landlords like me) suddenly found our mortgage tax relief were to disappear.