Officially there are around 2.8 million M*sl*ms in Britain making up 4.4% of the population. So, taking account of illegal immigrants and the fact that several hundred thousand 'Dutch' Somalis may have moved here because benefits in the UK are much better than in the Netherlands, there are probably at least 3.5 million. But that's still only around 5.5% of the population.
However, has anyone else noticed that despite being only around 5.5% of Britain's population, stories about Britain's M*slims make up 30% to 50% of each day's news? The big story today – some M*sl*m women and their children have left Britain and probably gone to join ISIL. This is being reported as some kind of great tragedy for our nation – here's a typical politically correct newspaper headline Nine British children in grave peril amid fears mothers took them to Syria to join ISIL – and hundreds of thousands of pounds of our money will be wasted on the police trying to find out what happened.
But I suspect most people in Britain will be relieved that these idiots have gone and will be hoping they never come back.
Then yesterday the big story was the British moron who became the youngest UK suicide bomber. Again his death was reported as some great loss for our country and little mention was made of the real victims – the eleven people killed by this murdering psychopath. I suspect most people in Britain will be delighted that this bearded a***hole is now f**king virgins in Paradise and will feel our country is a much better place without him.
Every day there are more stories about the 60,000 migrants (mostly M*sl*ms) who have been ferried across the Med by European navies eager to help people smugglers and our leaders are telling us how enriched our country would be if we allow thousands of them to come to Benefits Britain. I suspect most Brits will view their inevitable arrival here with fear and horror.
There are estimated to be 1.8 billion M*sl*ms in the world making up about 25% of the population. But though M*sl*ms are just 25% of the world population, they seem to account for about 80% to 90% of world conflicts.
In Thailand, M*sl*ms have been fighting the majority Buddhists for decades. In India there's regular trouble between M*sl*ms and the majority Hindus. M*sl*m Pakistan is at daggers drawn with Hindu India and within Pakistan M*sl*ms are eagerly slaughtering each other. Across the border in Afghanistan there's a very uncivil war between M*sl*ms. In China, there have been years of problems with their M*sl*ms. In Myanmar, the majority Buddhists are so fed up with M*sl*m violence that they're throwing them out and sending them to M*sl*m Malaysia and Indonesia. In the Middle East, we've had more then half a century of M*sl*ms trying to destroy tiny Israel. And now across the Middle East, M*slims are both slaughtering the few remaining Christians they can find and also busily slaughtering each other.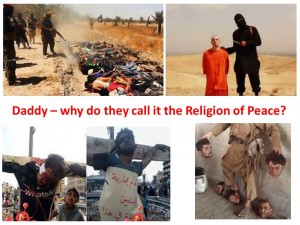 Meanwhile M*sl*m terror attacks are increasing across Europe and in the USA.
In fact, the only current conflicts I can think of not involving M*sl*ms is the small fracas between Russia and the EU in the Ukraine and the occasional low-level guerrilla warfare in some impoverished South American country.
And when there are 'good news' stories – scientific advances, acts of courage, artistic achievements – they seldom if ever involve M*sl*ms.
Faced with this torrent of news about the problems being caused by M*sl*ms across the world, if one was a stupid waaacccciiiissssttt like me, one might begin to wonder whether M*sl*ms are always 'bad news'.