I'll try to keep this simple today in case some useless, overpaid, overpensioned politicians are reading it. Though I doubt any are. They'll be too busy cheating on their expenses and finding second, third and fourth jobs to fill in all the free time they have and fill up their bank accounts.
Imagine I have to fill out some official document and it takes a civil servant an hour to check what I've written and input it into some computer system. Let's call that 'one transaction'. What will that transaction cost the taxpayer? Probably about £50 in administrative time (including the civil servant's salary, pension, office costs, manager's time etc etc).
Imagine a million people fill in the same form. Ooops, those million transactions will cost the taxpayer £50m in administration. Now let's imagine the Government makes the system more complicated with more rules and the document becomes twice as long and more complicated. So we're up over £100m.
With me so far? The more transactions that are generated and the more complicated those transactions are, the more the administrative cost will rise.
Now let's take one of the stupidest policies ever devised by a politician – Gordon Brown's 'in-work tax credits'. These were designed to help people on low earnings.
Here's a brief outline of in-work tax credits: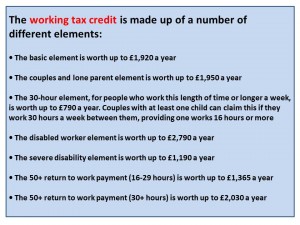 So, the basic working tax credit is worth just over £40 a week – say £1.20 an hour.
Just taking a guess, I'll assume it takes about 5 hours a year to calculate and administer each tax credit claimant's situation – £250 in administration.
The total number of people claiming 'in-work tax credits' is around 3,300,000. So, it's possibly costing £825m a year to administer.
Wouldn't it be much simpler to abolish in-work tax credits completely and just increase the minimum wage by £1.20 an hour while scrapping NI on anyone earning less than say £8/hour? That gives you massive simplification, cuts administrative costs by £825m and doesn't increase employers' costs by much as, even though they would pay an extra £1.20 per hour, they would no longer have to pay NI on the low-paid.
The problem with in-work tax credits is that, like everything developed by politicians who have never had a proper job in their lives, they fail to understand that something which looks simple on paper for just one person, suddenly becomes a costly nightmare when it has to be administered for millions.
When I worked as a consultant, one of the acronyms we used was USA – Understand, Simplify, Automate. Understand how a process works; Simplify it as most processes become more complex over time as people meddle with them; then Automate it to make it cheap to run.
Sadly our politicians, having never worked in their lives, don't understand how the number of transactions and their complexity just lead to ever more administrative cost.
The latest example of this stupidity can be seen in Osborne's plans for inheritance tax (IHT). Osborne claims he wants families to keep more of their wealth. So, the easiest thing would be to increase the IHT threshold from the current £365,000 to say £500,000. But no, instead Osbum has come up with some complex idea of each parent being given as extra £175,000 tax exemption on the value of the family home or something like that. As usual with politicians, more complexity, more confusion, more administrative cost.
Please could someone tell our useless, clueless, never-had-a-proper-job-in-their-lives politicians that they must USA – Understand: Simplify: Automate – otherwise they can never cut public spending as they continually increase administrative costs.