Here he is, the great Alex Salmond who claims "the Scottish lion has roared". Though he looks more like a bloated overweight toad than a roaring lion: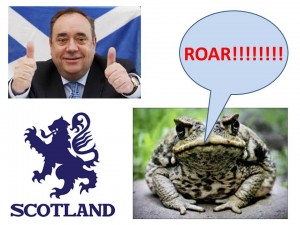 But who in England wants to hear the triumphalist, benefits-dependent Scots whingeing and moaning every minute of every day for the next five years as they claim they're being oppressed by the horrible Tawries? Not me. Perhaps it's time to call the Scottish toad's bluff?
About 36 years ago Labour Treasury Secretary Joel Barnett came up with a supposedly temporary allocation of money to the four countries making up the UK. It became known as the "Barnett Formula". Every year for the last 36 years, the Scrots have received much more public spending per head of population than  the English and the Welsh. In 2014, this Barnett Formula led to the Scots getting £10,152 per head compared to just £8,529 in England. So the Scrots are receiving £1,623 per head in public spending (19% ) more than the English: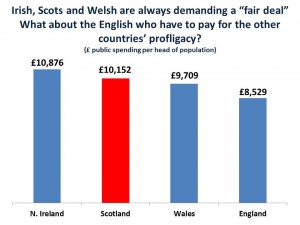 Lord Barnett never intended his formula to last for 36 years. In fact he described it as a "terrible mistake" during the Scottish referendum.
He said it had become a "national embarrassment" and that he felt ashamed his name was still associated with it. Lord Barnett, who died aged 91 in November 2014 admitted "It is unfair and should be stopped, it is a mistake. This way is terrible and can never be sustainable, it is a national embarrassment and personally embarrassing to me as well".
Now that the People's Democratic Republic of Scotland has become a socialist, one-party state, perhaps it's time to discard the Barnett Formula? Perhaps it's time to give the whingeing. complaining Scots full fiscal independence? That means they would have full tax and spending powers and they can only spend the money they raise in taxes and can borrow on international financial markets.
If we did this, the ghastly Salmond and Sturgeon would discover that they needed to find another £5bn to £8bn more than they currently raise in tax to carry on offering the Scrots all the goodies like free university, free prescriptions and other things the Scrots get, but are not available in England because we can't afford them.
In fact, if the Scots actually got the fiscal independence they keep demanding, they would be bankrupt within a year. But they keep demanding fiscal independence in the certain knowledge that the dreadful Tawries would never give it. Maybe it's time to call their bluff? Let's give them full tax and spending powers and then watch with glee as they become another Greece and founder and sink. Perhaps their beloved EU will bail them out?
So, don't be taken in by the strident Sturgeon's and ridiculous Salmond's empty bluster and outrageous lies. They have their greedy mouths firmly clamped onto the abundant, ever-giving teats of the English taxpayer and nothing will ever loosen their grip on our money.
Apparently there's a joke:
Q: What's a well-balanced Scot?
A. One with chips on both his/her shoulders