Our politicians know that the elderly are more likely to vote than the young. In 2010, 75% of the over-65s voted compared to about 55% of those aged 18 to 34: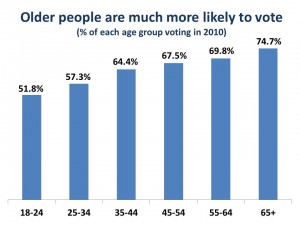 So when election time approaches, our politicians are lavish with their promises to older people in order to get their votes.
But how well have successive governments actually treated the elderly?
Firstly, a few pensioner facts
1.Britain's state pension is one of the lowest in the developed world
2. About 28,000 elderly die every winter from conditions related to the cold, often because they can't afford to heat their homes properly
3. Around 500,000 pensioners receive some form of care in their homes – often just one or two 15-minute visits a day. These visits are so short, that many elderly have to make a choice whether to eat or go to the toilet when there's someone there to help them
Of course, Britain is drowning in debt and we can't afford to look after our elderly properly, can we? But who do our rulers prioritise when handing out the little money we have?
Let's start with Labour  
Under New Labour, we got "immigration, immigration, immigration". Around 7 million immigrants poured into Britain as part of Blair's deliberate policy to open the borders, force multi-culturalism on us and, of course, import Labour voters.
About 70% of immigrants work. Assuming 80% of those working are getting tax credits of the average of £5,600 a year, then that's costing us about £21.9bn a year. Then assume that the 2,100,000 immigrants not working are costing us about £10,000 each a year in benefits and public services (NHS, schools, policing, translation, housing etc) then that's another £21bn.
So, these immigrants are probably costing us around £42.9bn a year. That's enough to give Britain's 11 million pensioners a rise in their pensions of around £3,900 a year. Then our state pension wouldn't look so miserly.
Or we could have given our 11 million pensioners just £3,000 each and that would have left £20,000 a year for each of the 500,000 pensioners receiving care in their homes. Then we really would be able to provide proper care for these 500,000 needing it.
And now the Coalition
Well, firstly the Tory/LibDem government continued to allow mass immigration, generously showering new arrivals with our money. For example, the Coalition could have stopped paying £52m a year child benefits to children not living in Britain. But they did nothing.
Perhaps the biggest change in spending under Cameron/Clegg was the massive increase in foreign aid to the world's most corrupt kleptocrats from £7.9bn a year to £12bn a year. Just this £4.1bn increase would have been enough to give every one of Britain's 11 million pensioners an extra £400 each winter to help heat their homes or Britain's poorest pensioners more than £1,000 each. That would have warmed quite a few homes and saved a few thousand lives.
So, old people, there's something you need to understand – our rulers want your votes. But they don't seem to want you.
They'd much rather give our money to foreigners who have contributed nothing to our country than to British pensioners, many of whom will have worked and paid taxes most of their lives.