Apparently our lying PM, Dave 'Cast-Iron-Promise' Cameron is going to make an 'important speech' about immigration in the next few days. Well, that'll be something to look forward to.
What will be in Dave's great speech? He'll definitely promise to clamp down on benefits paid to immigrants. What? Just like he clamped down on the possibly £20m or more a year in benefits (nobody appears to know the real figure) paid to (often non-existent) children who don't even live in Britain? Germany only pays child benefits to children who actually live in Germany. So, Cameron could have stopped this £20m or more scam years ago, but did nothing.
Or will he promise to 'further reduce immigration' which has actually been rising recently, particularly from Asia (Pakistan). This chart only shows non-EU immigrants as it just tracks the number of visas granted (click to see more clearly)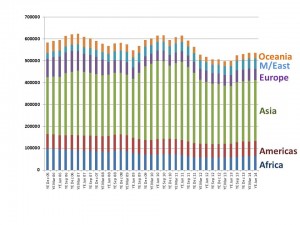 If you were to add in immigrants from the EU, you'd probably be near to 800,000 arriving here every year. This is rather higher than the supposed 'net migration' figure of 243,000 (up from 175,000 last year) that our rulers like to use.
And will Cameron claim we still have room in Britain for those who want to 'work hard' and contribute to our country? Probably. But where will we put the 800,000 people arriving each year?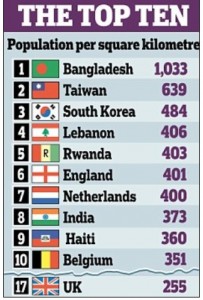 England is already the sixth most densely populated country in the world.
It's difficult to predict the future. But I predict Cameron's great speech will be a vomitarium of lies, deceit and totally empty, undeliverable 'promises'. You know, the kind of 'promises' that Home Secretary and future Tory leader, Theresa May, will later claim were only 'comments'.
Come on Dave – entertain us! We need cheering up!