You'll probably have read that five banks are paying over £2bn in fines for rigging foreign exchange markets. You may even have seen regulators blethering on about 'getting tough' with banks – "The FCA does not tolerate conduct which imperils market integrity or the wider UK financial system" and Osborne "Today we take tough action to clean up corruption by a few so that we have a financial system that works for everyone."
And, of course, bank bosses have been crying huge crocodile tears as they pretend to be sorry for encouraging fraud which has made them unimaginably rich – "To say that I'm angry would be an understatement" claimed the head of one of the worst offending banks.
In the latest series of fines, HSBC will be paying £236m, Barclays £500m and RBS (which is 80% owned by British taxpayers) £400m.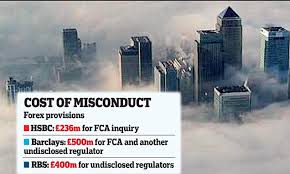 British banks have also had to put aside over £10bn to compensate for PPI (Payment Protection Insurance) mis-selling: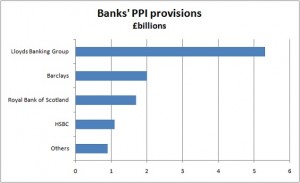 Banks in the UK, US and Europe have now paid tens of billions in fines and compensation.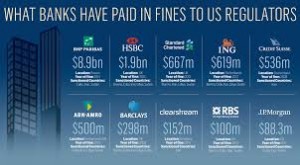 But who pays these extraordinary penalties? The individual bankers who committed fraud on a massive scale? Nope. The bank bosses? Nope. The fines get paid by the banks' shareholders who get less in dividends and see the value of their shares fall as the billions in fines and compensation are cut from the banks' profits.
And who are the banks' main shareholders? Mainly you and me. In fact anyone who has any savings in a pension fund or unit trust or has a company pension probably owns shares in a few banks. So, we're the ones being punished. Not the bankers.
Talking of punishment, how many of these corrupt bankers have been prosecuted for fraud? Yup, you guessed right – none.
So, please don't believe the mainstream media's hyperbolic lies about banks being fined and the regulators getting tough. We're the ones being fined and the regulators are getting tough with us while letting the bankers off.
That's why our bankers are laughing all the way to the bank.