Oxfam must be hoping to have raked in a few quid yesterday and today. Yesterday evening, Channel 4 showed an episode of Undercover Boss featuring some (IMHO) rather clueless dope who turned out to be Oxfam's  CEO (£108,775 a year plus £35,000 expenses). This allowed Oxfam to use the ad breaks to broadcast an appeal for Sudan.
In Oxfam's appeal, we were told that "conflict" was causing all sorts of ghastly humanitarian problems in the Sudan and so huge quantities of our money were needed. But who or what is this "conflict"? Could it possibly be that stupidity, religious backwardness, tribalism and overpopulation are leading to a situation where greedy, corrupt multimillionaire leaders are wrecking their own countries by exploiting the competition for resources? Could it be that the more money we give, the worse the overpopulation, strain on resources and conflicts will be? Could it be that organisations like Oxfam never mention the real causes of these conflicts as political correctness makes them terrified of being accused of racism and/or Isl*moph*bia? Could it be that what's really needed is an emergency programme of birth control?
In the TV programme, Oxfam's reasonably well-paid CEO blethered on about making the best use of all the money donated to Oxfam. And Oxfam claims that around 74.3% (£286.5m) of its total income of £385.5m was used for what the Charity Commission calls "charitable expenditure".
I'm no accountant, but I've had a quick look at Oxfam's accounts and I came to a rather different conclusion:
Oxfam seems to have 3 main sources of funds – shops, public donations and government grants.
Its shops raise £89.9m, but cost £67.6m to run, leaving just £22.3m for charity. So just £25 out of every £100 spent in Oxfam shops actually goes into Oxfam's coffers. The other £75 is used just for running the shops. Not great, considering the people working in the shops are mostly volunteers, what they sell is donated and Oxfam don't pay any business rates. Perhaps there are a few too many overpaid, over-pensioned managers? Who knows?
Oxfam raises about £295.6m in donations with a cost for raising this money of £23m (7.8%). That looks pretty good. But £159.8m of these donations come from government, large institutions and public authorities giving Oxfam enormous piles of our money while cutting public services in Britain because we can't afford them. So, actually only £135.8m is raised from us directly at a cost of £23m (17%). Not great, but not disastrous either.
Now we know that of the £385.5m raised by Oxfam, £90.6m (shops – £67.6m plus fundraising – £23m) of this is spent getting the money in. That leaves about £294.9m to be spent.
Then we have to knock off about £31.9m for support and governance costs, leaving £263m – 68% of the £385.5m raised – available for charity work.
Now comes a bit of guessing. Oxfam's staff costs are £59.5m in the UK and £42.3m overseas – total £101.8m. If we're generous and assume that only a third of these staff are in administrative and managerial functions and that two thirds are doing real charitable work, then the administration and managerial staff costs would be £33.9m. This would leave around £229.1m for charitable work (59.4% of the £385.5m raised).
Of the £229.1m available for charitable work, about 40% (£90.6m) isn't spent directly by Oxfam, but is handed out in grants to other charities. As they will certainly have managerial and administrative costs of 20% or more, that's another £18.1m not available for real charity. That leaves us with £211m – 54.7% of the £385.5m raised by Oxfam (click on chart to see more clearly)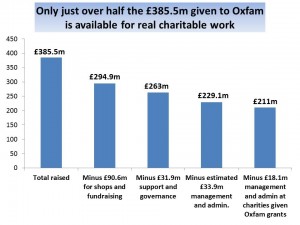 By my reckoning, about 50% or less of the money given to Oxfam is actually used for real charitable work. That's pathetic. And it's not anywhere near Oxfam's claim of using 74.3% for charitable purposes.
Then there's one other not so small problem – most experts and UN special studies suggest that around 80% of aid given to Third World countries disappears due to corruption and incompetence.
All in all, you're probably wasting your money if you give it to Oxfam and you're probably wasting your time if you're one of the 22,000 volunteers who help out at Oxfam. If you want to give to charity or help charity, why not choose a small local charity or hospice where you can see what your money is being used for? But as for huge, bloated, bureaucratic, self-serving Oxfam – waste of time, waste of money?