Monday/Tuesday blog
Of all the possible areas for scientific research, examining any links between intelligence and ethnicity must surely be the most reliable road to guaranteed career and social suicide. It's an even more heinous crime than daring to question the climate change nonsense pumped out by the climate catastrophist crazies enthusiastically supported by the climate propagandists at the BBC.
But I don't have a career and don't have any friends so here goes.
Gardner's 'Multiple Intelligences' model
One approach used for classifying human intelligence is the model of multiple intelligences proposed by Harvard psychologist Howard Gardner in his 1983 book Frames of Mind: The Theory of Multiple Intelligences. 
Gardner suggested that all people have different kinds of "intelligences." To broaden this notion of intelligence, Gardner introduced eight different types of intelligences consisting of: Linguistic, Logical/Mathematical, Spatial, Bodily-Kinesthetic, Musical, Interpersonal, Intrapersonal and Naturalist: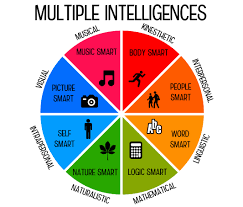 The main implication of this 'Multiple Intelligences' model was that people could have successful, fulfilling lives in many different ways depending on which type of intelligence they excelled at.
IQ tests – toxic and despised
We can all see that different ethnicities vary in their physical characteristics. But we are browbeaten into accepting that it is simply impossible that there might be any differences between ethnicities in any of the eight intelligences mentioned above. Yet anyone who is interested in music, sport, business, art, dance or whatever might have noticed that certain ethnicities seem to perform better in certain areas than others.
Of all the eight intelligences (or skills) on the Gardner model, one in particular has been declared a taboo by those who decide what we are allowed to think and say. Political correctness has decreed that IQ tests – which mostly measure logical/mathematical intelligence – have become an anathema in case they do show any differences between different ethnicities.
Here's a shortish (about 7 minutes) video of someone entering the 'ethnicity and intelligence minefield' of IQ tests. Rather him than me.
The only comments I would make are:
I have checked the references he cites to confirm that the figures he quotes are genuine
I have absolutely no opinion on the matters he discusses but believe that free speech should be permitted unless it is intended to cause harm or violence