(Friday blog)
I had to switch off the BBC news this morning due to its usual hate-filled anti-Trump rant following the latest Trump vs Biden debate.
As the BBC lambasted Trump (as usual) for everything wrong in the world and especially for his handling of Xi Pingpong's Chinese plague, the BBC 'forgot' (as usual) that:
implementing measures to control Xi's lab-produced plague is mainly the responsibility of state governors and local mayors, though the president does have some power through using national restrictions such as travel bans
when Trump initially responded to Xi's plague, with acts like travel bans from China and then Europe, the Democrats – Biden, Pelosi, AOC etc – all accused him of creating a 'fake crisis' and of 'racism'. Now they're accusing him of acting too slowly
A Trump landslide?
The BBC went to town yesterday on a few speeches made by Saint Obama in support of Biden. What the BBC 'forgot' to mention was that there were around 200 people attending Saint Obama's great rally. At Trump's rallies there are usually around 20,000 attendees (see video below).
The polls run by Democrat-adoring, Trump-loathing media keep assuring us sleepy senile old Joe 'China' Biden is among the most admired presidential candidates in US history and that Biden will win by a landslide: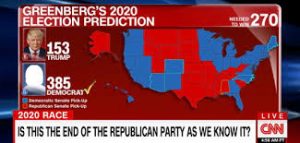 Some even breathlessly predict the end of the Republican Party.
But here's another possible scenario – a Trump landslide: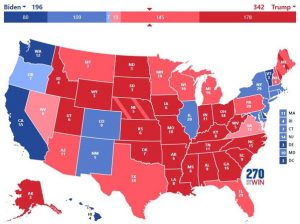 After months of churning out anti-Trump, pro-Biden propaganda masquerading as news, what will the Trump-hating, Biden-adoring BBC's excuses be then?
It's time to defund the BBC.
It's all about enthusiasm
And here's why Trump could still win: