(Tuesday blog)
Oh dear, nobody understands me
First I wanted to correct what seems to be a misunderstanding over yesterday's blog. In the blog I featured what I thought was a brilliant piece from Sky News (Australia). This suggested our rulers would use the same tactics they have used to crush us into submission to their Covid-19 lockdowns when forcing us to obey their  inevitable Global Warming (Climate Change) restrictions on our freedoms.
Some readers seem to think I was suggesting some huge global conspiracy against us. For example, one wrote "I'm no longer sure that our rulers as you define them have a plan to make us obedient and give up our freedoms. It suggests a conspiracy and I cannot see how something as big as this could have been planned without it leaking out."
That was not my intention. There's no way I was suggesting some huge David-Icke-like conspiracy. That would be stupid. All I was trying to propose was that our rulers – international organisations like the UN and WHO, national politicians, bureaucrats, climate 'experts' and police – would naturally tend to enforce restrictions on our freedoms to supposedly "save the planet" using the same tactics and fake statistics they have used in the Chinese plague clampdown.
Hopefully that's a bit clearer?
Talking of Global Warming or Climate Change or Climate Emergency…
And while we're on the subject of Global Warming or Climate Change or Climate Emergency or Climate Extinction or whatever it's called this month, here's my second short video from the excellent Sky News (Australia).
If you Google something like 'Arctic sea ice chart', you'll get graphs like this 'proving' all the Arctic sea ice will soon be gone:
Or like this proving there has been no change at all in Arctic sea ice: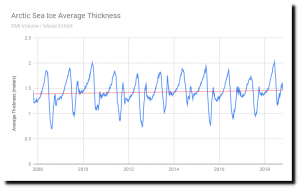 But even if you believe Arctic sea ice is declining  due to supposed Global Warming, most scientists believe that Antarctic sea ice is actually increasing:
That may be why the infamous 'ship of fools' (Akademik Shokalskiy) – the boat of Warmies and attention-seeking luvvies, who went to Antarctica in January 2014 (the height of the Antarctic summer when ice should be at a minimum) to 'prove' the ice was melting – got stuck in thick ice and then the boat sent to rescue them also got stuck.
If the chart above is accurate, this suggests a shift in climate rather than a general global warming.
Anyway, the purpose of today's blog is not to try to resolve the screaming rows between the Warmies and the realists. The only purpose of today's blog is to give readers the pleasure of seeing a news channel dare to debunk and even mock the Global Warming hysteria.
There is no news channel in the UK which would allow anything like this to ever be broadcast as anyone (remember David Bellamy?) who dares cast doubt on the Global Warming cult immediately gets crushed by a twitterstorm and cancelled: