(Friday blog)
Government incompetence breaks the unwritten agreement with the people
Democratic government depends on an unwritten agreement. The people agree to obey laws and pay taxes in return for the government making a reasonable effort to provide basics like healthcare, education, national defence, utilities, roads etc etc.
At the start of the Chinese laboratory-produced Covid-19 plague, the British government seemed to be reasonably competent. People accepted the Prime Minister's request for social distancing and the Chancellor appeared to be proactively dealing with the economic disaster caused by the country's lockdown.
The looming problem now with the Chinese Covid-19 plague is that the public, generally speaking, have done what is asked of them and kept their side of the bargain. But people are becoming increasingly frustrated watching the complete shambles their leaders are making of managing the crisis. This will cause patience to run out very quickly.
Rioting and looting have already broken out in Southern Italy. In France, over 350,000 people have been fined for breaking the lockdown rules and the police don't even dare go into some of the most vibrant, multi-culturally enriched suburbs of Paris, Lyon and Marseille. I suspect the same is true for many other European countries. And it won't be long before some of the UK's most deprived areas see the Government's utter uselessness, question why they should have to suffer a lockdown being endlessly extended due to Government incompetence, have had enough and start to riot and loot.
What will the Government do? Relax restrictions? Or send in the army? Boris, you shouldn't have sold off your water cannons. I think your Government's incompetence, delays and blundering have caused such a loss of confidence that people will soon start taking the law into their own hands and tell the authorities to shove their social distancing somewhere where the sun doesn't shine.
When will the (IMHO) useless, incompetent, worthless Yvonne Doyle be sacked?
Wednesday evening's Downing Street press conference was pitiful. We had a virtually unknown government minister – Alok Sharma (who he?) – and a creature called Yvonne Doyle from an obscure public-sector bureaucracy called Public Health England (PHE) trying to explain away why the UK was doing less than 10% of the number of Covid-19 tests than were being done in some other countries.
Here's the in my humble opinion (IMHO) utterly useless, incompetent and less than honest Ms Doyle at the press conference: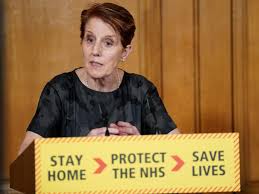 Yvonne Doyle is the medical director (or something like that) for PHE and with a reported salary of £257,500 a year is just one of the 242 PHE employees with six-figure salaries.
PHE seems to have been tasked by the government with organising Chinese Covid-19 plague testing and this has turned out to be a farce or a tragedy or even a fiasco.
What seems to have happened (I believe) is as follows: When given the job of organising the testing, PHE has tried to make a huge bureaucratic empire-building power grab. Instead of involving university labs and private-sector company labs in building testing capabilities, PHE appears to have made this PHE-only territory. PHE have then set about building a single large, centralised testing facility in Milton Keynes – basically every control-hungry bureaucrats' wet dream.
Over two weeks ago, Britain's universities provided the Department of Health with a list of their testing facilities and available staff. Many private companies did the same. But Yvonne Doyle and her over-paid, over-pensioned chums at PHE appear to have rejected all offers of help. They wanted (IMHO) to be in control of everything. Moreover, under PHE's plans for centralised tests, it would take 24 to 48 hours for test results to be delivered whereas more smaller localised testing facilities could have delivered the results much faster.
PHE  also set up two sites for NHS employees to be tested and the tests to be sent for analysis in Milton Keynes – in IKEA Wembley and Chessington World of Adventures car park. But the PHE employees there started turning away any medical staff who didn't have booked appointments and the correct signed paperwork. So the testers were left with virtually nothing to do while NHS staff wasted precious hours driving to and away from the testing centres which refused to test them: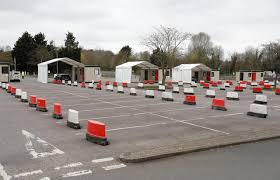 The government has tried to explain away the testing catastrophe by claiming that they didn't have sufficient reagent for the tests. But the UK chemical industry has said this was a lie. If the British chemical industry are telling the truth, this would suggest (IMHO) that Michael Gove and Alok Sharma are liars.
Basically, the whole thing has been a total bureaucratic cluster-f*ck. Faced with public fury and a tsunami of outraged criticism from the media, the Government has just realised what a total cluster-f*ck Yvonne Doyle and PHE have made of testing and yesterday did a complete reverse ferret by bypassing the incompetent, bureaucratic, power-grabbing assholes at PHE and inviting university and private-sector labs to assist with testing.
Yvonne Doyle and the other (IMHO) useless, incompetent, paper-shuffling scumbags at PHE should be fired. Having never done a real day's work in their lives, they clearly couldn't organise a proverbial piss-up in a brewery. But, of course, they won't be fired. Instead they'll probably all get gongs and seats in the Lords.
I wonder how many people have died because of the stunning incompetence of Yvonne Doyle and PHE?
However, professional parasitic bureaucrats like Yvonne Doyle and the other PHE bosses (in my humble opinion) don't give a damn about how many deaths there are. All they care about are their own lousy careers and salaries and pensions.