(Wednesday blog)
Brexit betrayed – we're never leaving
I'm finally realising that the europhiliac Establishment have won. We won't be leaving the EU. Ever.
Here's the picture that tells more than all the TV interviews and newspaper articles. It's our (IMHO) totally worthless, lying, treacherous, incompetent, Remainer former PM, Theresa May, sitting in the House of Commons yesterday beside her hero – fellow arch-Remainer Kenneth Clarke – during yesterday's debate blocking Brexit;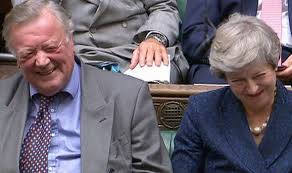 Their smug grins of delight as Boris Johnson gets heckled by the House of Collaborators Remainer MPs tell us all you need to know.
It's now blindingly obvious that May never intended to take us out of the EU. She always wanted to keep us shackled to Brussels. She circumvented no fewer than two Leaver Brexit Secretaries –  forcing both to resign in protest – in order to stitch us up and keep us under EU control.
And now we can see her delight as the House of Crooks takes away any negotiating power Boris Johnson might have had.
Brexit seems to be dead in the water. No wonder May and Clarke are looking so pleased with themselves. They have sold our country out to their friends in the wasteful, undemocratic, bureaucratic EU.  They have betrayed Britain.
Can Farage save us from this disaster? Probably not.
I told you so!!!!!
Oh well, at least I have the grim satisfaction of being able to say "I told you so". Here's a video I made over three months ago predicting we would never be allowed to leave the German-run EU (aka the Fourth Reich).
Thank God my father, who fought against the Germans in 1939-1945, isn't alive to see our abject surrender to German rule: