(weekend blog)
Here she is – the main reason Trump will probably win another four years in the White House in 2020. This is Alexandra Ocasio-Cortez (popularly known as AOC):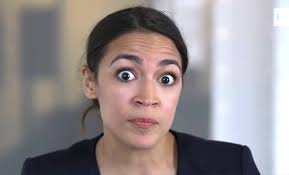 While the main Democrat presidential candidates try to sound reasonable and middle-of-the-road and electable, swivel-eyed lunatics like AOC are dragging the Democratic Party ever further to the left.
One of AOC's greatest achievements was a campaign against Amazon which caused Amazon cancel plans to open offices employing about 25,000 people in AOC's district.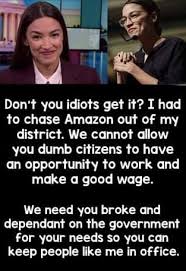 Another was a New Green Deal for America – an eco-loony plan which would have shut down most of American industry in order to save mankind from extinction from non-existent man-made Global Warming (or Climate Change or Climate Crisis or Climate Breakdown or whatever it's called this week).
And now AOC has compared US Border Agency facilities for illegal immigrants to Nazi concentration camps and has refused to back down from this comparison:
Given her limited knowledge of history and tenuous grasp on reality, AOC probably doesn't understand that about eight million innocents – Jews, Gypsies, political prisoners, the disabled and many others – were brutally murdered in Hitler's concentration camps. But the illegal immigrants held by US Border Agency are free to go home whenever they want. However most would rather stay where they are in the hope of eventually getting into the US and thus escaping the misery and poverty and crime and violence of the Latin American sh*t-holes they have come from.
But what's worrying is not AOC's claim that the US is running concentration camps. Any idiot can say whatever rubbish they want. What is worrying is that AOC can say these things in the sure knowledge that she will be supported by millions of pig-ignorant, narcissistic, virtue-signalling snowflakes all suffering from a severe case of Trump Derangement Syndrome which prevents any form of logical thinking.
AOC is not some lunatic fringe madwoman. She is a perfect representative of the snowflake generation. And the closer we get to the November 2020 US presidential elections, the more we'll hear from AOC and others of her ilk. And the more deranged tripe AOC and her chums spout, the more ordinary Americans will realise that the Democratic Party has been taken over by the mentally infirm and so have no other option than to vote for Trump to save their country from self-destruction.
Well done, AOC!!!!! You've virtually guaranteed Trump four more years.!!!!