(Thursday blog)
Last weekend, there was the annual city festival in a German town called Chemnitz. Last year, it was overshadowed by several rapes and massive sexual molestations, done by Arabs and Afghans, and the same happened also this year. In one case, about a dozen "young men" (newspeak for our Moozerlum friends) tried to rape two girls.
This was noticed by a German man, who tried to protect the girls from the would-be rapists. He was brutally slaughtered to death by two migrant 'young men' inflicting at least 25 knife wounds. Two more men who tried to help him also suffered severe knife wounds and are still in intensive care. (It is rumored that one of them has also died)
Initially the lying BBC reported that "a few hundred right-wingers" had gathered to protest against immigration. Here's what the BBC calls "a few hundred":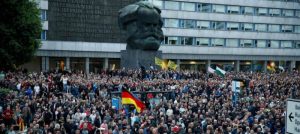 And here's another picture of what the lying BBC calls "a few hundred right-wingers":
Clearly the BBC have been taking lessons in mathematics from Nobel Prize-winning mathematician, Labour's Diane Abbott.
Later the BBC did amend the article on their website from "a few hundred" to "thousands". However, most people would have got their 'information' from the BBC TV news which reported just "a few hundred" and didn't see fit to issue a correction.
But in their website report about the protests in Chemnitz, the BBC went on to make two further clearly ludicrous claims.
The BBC claimed that immigration to Germany has been a success and that "one in four new migrants has a job". It's true that there was a report in the EU-loving Financial Times making this claim. But other more reliable reports suggest that 97.5% of new Middle East and African migrants to Germany are not working. That seems slightly more realistic to me.
The BBC also claimed that Germans weren't overly concerned about immigration: "A national poll recently found that Germans are now more concerned about health, pensions and climate policy". That is another blatant lie. The latest YouGov poll (from May this year) of different EU countries' main concerns showed that Number One for Germans was "immigration" and Number Two for Germans was "terrorism". For Germans issues like health, pensions and climate policy hardly registered on the YouGov poll.
And here's a video of what the lying BBC calls "a few hundred right-wingers". To me it looks like the whole town of Chemnitz has come out to protest against Adolf "Mad Cow" Merkel's uncontrolled immigration and race replacement policies.
Most people don't have the time or energy to check the BBC's supposed "facts". But when you do, all you find are progressive, holier-than-thou, virtue-signalling, Izlumophiliac, hug-a-rapefugee libtard lies:
????‼????⚔ #Germany: the huge stream of 10,000 angry German citizens and patriots who marched yesterday in the streets of #Chemnitz for the killed (slaughtered with 25 stab wounds) German young man. The people shout: "Merkel must go!". pic.twitter.com/UfSPa7UsGX

— Onlinemagazin (@OnlineMagazin) August 28, 2018