(Wednesday/Thursday blog)
Poland (along with other East European countries) has been in the news for its absolute refusal to take in any of Merkel's invading army of multi-cultural-enriching migrants.
By an extremely odd, and to me inexplicable, coincidence Poland has also just been ranked as the safest country in mainland Europe for women.
Every year a consultancy New World Wealth produces a report called "Global Wealth Migration Review".
The report mainly looks at the movement of high net worth individuals (HNWI) across the world.
However, part of that analysis involves reviewing the safest countries for women as this is a way of establishing how civilised or otherwise a country is and this correlates to its likely future prosperity: "Woman safety is one of the best ways to gauge a country's long term wealth growth potential, with a correlation of 92% between historic wealth growth and woman safety levels," the report says. "This means that wealth growth is boosted by strong levels of woman safety in a country."
The 10 safest countries for women in 2017 were:
Australia
Malta
Iceland
New Zealand
Canada

Poland

Monaco
Israel
USA
South Korea
The rankings are based on the percentage of each country's female population that has been a victim of a serious crime over the past year.
The safest countries in each region were:
Europe: Malta, Poland, Monaco, Iceland.

Asia Pacific: Australia, New Zealand, Sri Lanka, Japan, South Korea.

Middle East: Israel, UAE.

Africa: Mauritius, Botswana, Namibia.
The least safe countries in the world for women in 2017 include Somalia, Sudan, Iraq and Syria.
Sweden's rush into the Third-World
As for dear old, once prosperous, once civilised, once admired Sweden: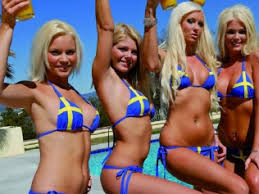 Following its rulers' decision to import more often violent, often inbred, often low-IQ, often illiterate, often unemployable, often parasitical, often misogynistic migrants per head of population than any other European country, rape now seems to be the most popular sport in the country:
(The blue line is the total number of sex offences)
In 2011 at least 77% of rapes in Sweden were committed by men with a foreign background ("Utlandsk bakgrund"):
For reasons that should be more than obvious, the Swedish authorities no longer report the ethnicity of people committing crimes. But I would expect that by now over 95% of crimes, particularly sex crimes, are committed by people with a foreign background.
As for Sweden's future 'prosperity', I have previously shown the results of a United Nations forecast which predicts Sweden becoming a Third-World country within the foreseeable future: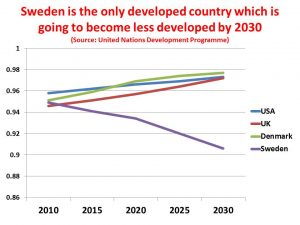 But I suppose that Sweden's decline and the admission of so much (IMHO) sub-human garbage is just another coincidence. To think that there is any connection between immigration and rising rape levels would be "racist" as anyone in Rapey Rotherham, especially the police, social services and councillors, could tell you.