With so much cultural enrichment being provided by the Religion of Peace, Mayhem and Murder every week, it's quite difficult to choose the best stories.
Here are just a few examples of cultural enrichment from the last few days:
Austria: Parents forced their children to watch beheading videos. They hoped this would make them better Jihadis
UK: 'Men' (from you know where) lined up to rape 13-year-old girl
ISIS reminds Muslims: Ramadan martyrs get extra reward
Denmark: Father 'honour-rapes' boy who talked to his daughter
Sweden: National anthem to be rewritten to make it more inclusive
Iraq: Australian girl killed in Baghdad ice cream shop blast
Germany: Kurdish man stabbed to death for violating Ramadan rules
Sweden/Germany: Governments seize private property to house migrants
Pakistan: 12-year-old Christian girl kidnapped, raped and married to Muslim man
Tunisia: Four jailed for eating during Ramadan
Germany: Asylum seekers set fire to centre after demands not met
UK: Police investigate 180 new child sex cases in 'grooming capital of UK' as fears grow of another Rochdale
UK: Police refuse to help Jewish family pelted with stones
France: Man stabbed after buying beer at local grocery
Denmark: Teen girl prosecuted for fighting off migrant rapist with pepper spray
UK: 'Foreign' men steal flowers and toys from Manchester memorial
Kuwait: Seven men raped 10-year-old disabled boy
These stories are in addition to the more than 400 innocents slaughtered so far this Ramabomb in religiously-inspired attacks.
And here are a couple of media lies exposed
1. Don't believe refugee charities' lies
The UNRWA (United Nations Relief and Works Agency) is, as usual, appealing to governments and the public for ever more money, supposedly to help refugees. And the British government will hand over millions of our money to the UNRWA.
Here's the UNRWA's new Ramadan begging ad supposedly showing a sad Palestinian girl in the ruins of her home:
I'm sorry you can't read the text, but the ad claims this is a Palestinian girl caught in misery by the Israeli blockade of Gaza.
So, what's the problem? Well, the Jew-hating UNRWA just happened to use the same picture – of this girl in the ruins of a Syrian town a couple of years ago: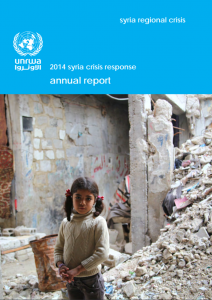 As usual, we're being lied to!
2. Six-foot tall "white man" attacks casino
And here from the Philippines is a photo of a supposedly "six-foot-tall white man" who attacked a casino killing about 36 people before killing himself: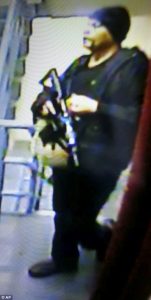 Yup, he looks pretty white to me. Not!
The Philippine authorities claim he was just an angry gambler and NOT a terrorist. But ISIS insists it is behind deadly casino attack and has even named the Jihadi as Abul-Khayr al-Arkhabili.
As usual, we're being lied to!