Readers will probably be aware that our great EU leaders gathered in Malta last weekend to try to work out what to do about Donald Trump being elected US President.
At the meeting there was a lot of huffing and puffing and the release of enough putrid hot air to increase global temperatures by several degrees. In the final statements, this bunch of cowardly Nazi-Germany stooges bravely announced that they were not going to be threatened and pushed around by President Trump.
The only problem is that Trump hasn't threatened them. Nor has he tried to push them around. In fact, having been well briefed by Nigel Farage about the worthlessness of our EU elites, Trump seems to have completely ignored our EU rulers. And that's perhaps what irritates them most – being ignored. The scum who lead the EU (towards disaster) claim to be horrified by Trump's supposed waaacciiiissssm and sexism etc. But what really rankles is that he is just ignoring them.
While M*sl*m-cocksucker-in-chief Obummer went grovelling to 'Mad Cow' Merkel and even made his last leader-to-leader phone call as president to the treacherous, West-hating Merkel, Trump has sensibly wasted little to no time on the puffed-up, self-important fools who are destroying our continent.
What we do know about Trump's attitude to the EU are two things:
A German racket to run Europe
Trump has referred to the EU as just a 'German racket' to take over Europe. This was met with the usual howls of protest by our political pygmy leaders. So, let's test Trump's claim:
Who decided to open Europe's frontiers to unlimited invasion by violent, inbred, illiterate, misogynist men of military age? Merkel? Or EU leaders?
Who decided to tear up the Dublin Convention whereby 'asylum seekers' had to claim asylum in the first safe country they reached? Merkel? Or EU leaders?
Who rushed off to Turkey and did a supposed deal with the president of the goatbotherers to limit the flow of migrants to Europe in exchange for a massive amount of EU taxpayers' money? The drunk from Luxembourg? Or Merkel?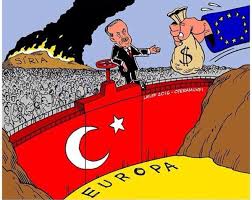 Who runs Europe? The EU commissioners or Merkel?
A catastrophic mistake
The other thing we know is that Donald Trump has repeatedly stated that Merkel's decision to open Europe's borders to an invading army of West-loathing, subhumans was a catastrophic policy mistake. Of course, in the mainstream media we are constantly lectured about the wonderful cultural enrichment the Third-World garbage are bringing and our self-righteous, virtue-signalling celebs and luvvies are queuing up to tell us we need to take in more of those who hate us and wish to kill us.
And hardly a week goes by without some bunch of worthless libtards protesting about Trump's supposed racism.
But I suspect that most normal people – people who have to get up each day and go to work to support their families – know that Trump is right and wish Europe had leaders with the courage to stand up for European citizens the way that Trump is standing up for his country.