Forget supposed 'Global Warming'. Forget the next financial crisis! Forget even the utterly, pointless, over-hyped, already discredited Rio Olympics!
This graph shows what you really should be worrying about. This is what should really be giving you sleepless nights:
In 1950 Africa had 230 million, Europe 549 million inhabitants. By 2100 Africa is expected to have 3.57 billion, Europe 670 million. Africa will grow from around double Europe's population today to about six times the European population by the end of this century.
Just this year, Africa's population will increase by up to 50 million.
Africa can't support its teeming millions. In fact, the poorer the African country, the more children its women have. In poverty-stricken Niger, for example, the average is eight children per woman.
Already around 80% of Africa's population has to survive on less than $2 a day.
In Africa, most Africans have no future. So, where are they going to go? Europe, of course: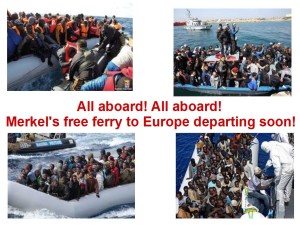 So, how many should we let in? A million a year? Five million a year? Even if we let in ten million a year, this would do nothing to ease Africa's misery.
Oxfam and Christian Aid and the Red Cross and all the other greedy, self-serving supposed charities have been lying to us for the last fifty years. Africa doesn't need aid! Africa has never needed aid! Africa needs birth control! And we should only be giving charity and aid to countries that have an effective birth control programme – currently none!
But we won't do that because the progressive liberal press would start howling about racism.
This refusal to face the truth leaves us with a difficult, probably unsolvable problem. We could let millions into Europe, creating another Africa in Europe, with no-go areas in all our major cities, riots, large scale car burnings and tens of thousands of violent rapes mainly perpetrated by African and Arab immigrants.
This would wreck Europe. It could even lead to civil war in Europe: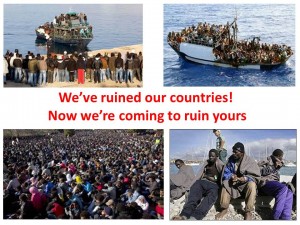 But it still wouldn't solve the suffering of billions of ever-multiplying Africans.
Or should we Europeans preserve our culture, the affluence we planned and worked for and maintain the social networks that are getting strained by immigration of life-long, multi-generation welfare dependents?
Sadly, as they worship the false god of political correctness, our rulers supported by the progressive, liberal mainstream media, are preparing a future for us that almost none of us (apart from Guardian readers and Corbyn supporters) actually want.