Hopefully you were all using your "Blame Bollox Bingo" cards yesterday when, commenting on the Jihadist attacks in Europe, the Pope said they were due to a war between the people and the rich or something equally stupid and, of course, NTDWI.
Today, I have another game for you. It's "Spot the Difference". Here are two photos.
First from the Republican Convention: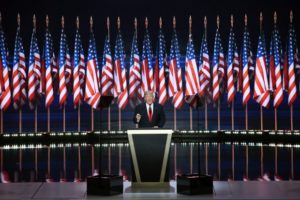 Then from the Democrats' Convention:
But can you spot the difference?
Well done. if you noticed there were no American flags at the Democrats' Convention.
In fact, the only flag seen at the Democrats' Convention seems to have been the Palestinian one:
Oh dear. Is Hillary going to be another Merkel? Someone who hates Western civilisation and wants to flood her country with backward, violent, intolerant, murderous Third-World scum as an offering to the false God of Political Correctness?
Meanwhile, all the celebs and Wall Street bankers and mainstream media who ordered us Brits to remain in the corrupt, undemocratic, failing, oppressive EU are falling over themselves to order Americans to vote for Crooked Hillary and the status quo.
Let's hope Americans can find a bit of spine just like we Brits did in the EU In/Out Referendum.