This weekend there was, I thought, a disgraceful article in the Sunday Telegraph by a Tory trougher, MP Dr Sarah Wollaston, claiming that Britain's ageing population will bankrupt the NHS. Of course, the good lady didn't mention the arrival of 7 to 10 million immigrants in Britain since New Labour opened the floodgates in order to 'rub the noses' of the middle classes in multi-culturalism.
But before lambasting the trougher for her political correctness in not mentioning 'immigration' I decided to check the figures. And in this case, I was surprised. The Tory trougher may have been actually telling the truth.
Between 1998/9 and 2012/3 hospital episodes rose by 48% from 11,983,893 to 17,715,046. If we break these down by age group, we find that the major increases have been in the older age groups (click to see more clearly)
So, it appears our ageing population, rather than immigration, is the main cause of our collapsing NHS services.
The answer to this problem from the good Dr Wollaston is more money, more money, more money! But hold on a minute, since 1997/8, while hospital episodes have gone up by a worrying 48%, the NHS budget has shot up from £45bn to over £105bn – almost a doubling even after taking account of inflation. So, about a 100% budget increase has apparently been insufficient for our hopeless NHS to cope with a 48% rise in hospital episodes.
Moreover, Britain is slightly above the OECD average in the amount spent per capita on healthcare (click to see more clearly)
So, where has our money gone? A lot has disappeared into massive pay increases for doctors and nurses for doing ever less work. Then there has been an explosion in the number of managers – from around 25,000 in 1998/9 to over 40,000 by 2010 to around 38,000 today. Meanwhile, the number of hospital beds has collapsed from 200,000 in 1998/9 (8 beds per manager) to 140,000 today (a pathetic 3.7 beds per manager)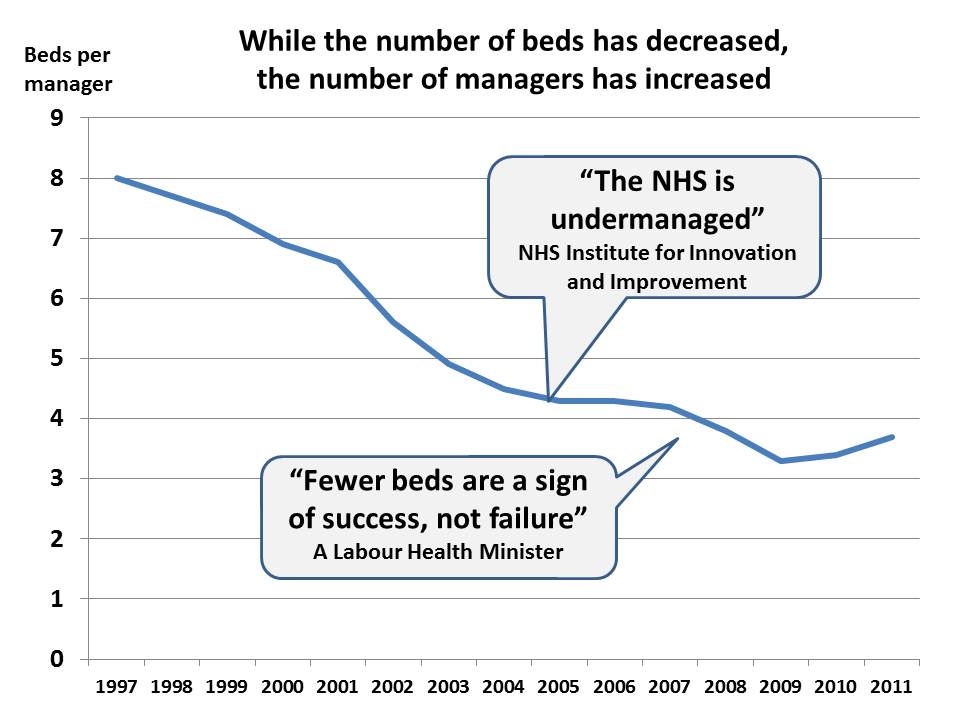 The NHS also wasted a massive amount of our money by blowing around £5bn on a computer system which (as I explained in detail in my 2006 book PLUNDERING THE PUBLIC SECTOR) could never work. At the time, the head of the National Audit Office, Sir John 'Junket' Bourne, gave me a bollocking for my 'totally misleading analysis', as he supported the hopeless computer system. It was abandoned in total chaos in 2011 after our £5bn had disappeared into thin air.
So, yes I have to admit that it seems to be an ageing population, rather than mass immigration, which is bankrupting our NHS. But if the NHS would waste just a little less of our money, perhaps it wouldn't always be bleating about needing more, more, more!
SPECIAL OFFER!!!! For the next two days only, the ebook version of my book GREED UNLIMITED is on special offer at just £0.99p http://www.amazon.co.uk/GREED-UNLIMITED-Cameron-protect-squeezing-ebook/dp/B009EWPYT2/ref=pd_sim_kinc_2?ie=UTF8&refRID=1YA30XSTAJEGVJFQPKZC You can read it on a Kindle or on your computer or tablet. Now is the time to get a copy.