I have written before about an absolutely catastrophic (for Britain) change in the way votes are conducted in the EU Council of Ministers after November 2014 www.snouts-in-the-trough.com/archives/9608
Although our politicians are very quiet about this massive change, in November 2014 a huge number of areas move away from unanimity (where any one country can veto proposals) to 'Qualified Majority Voting' (QMV) where all countries lose their right to veto proposals.
We're about to see the horrific results of QMV this week if Cameron forces a vote on the choice of Europhiliac United States of Europe time-server Jean-Claude Juncker to be the next president of the European Commission.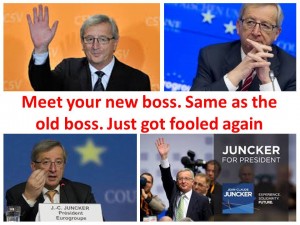 While drooling over how wonderful the EU is (for them and their job prospects) our leaders witter on about Britain being 'at the centre of Europe' and 'Britain's influence in Europe' and Britain 'having a place at the high table' and other such clichés. But the appointment of the allegedly dim-witted, self-serving, greedy drunkard, Jean-Claude Juncker, to run the EUSSR will expose just how much influence we actually have in the EU – less than zero. We are just a useful cash cow for the EU – handing over £52m a day (that we're having to borrow) and serving as a dumping ground for the EU's unemployed and unemployable.
Here are some British bulldogs. Can you spot the odd one out?
(By the way, the £0.99p promotion on the ebook version of my latest book, DON'T BUY IT!, ends in a few days. Get a copy now before the price goes up again www.amazon.co.uk/Dont-Buy-It-tricks-salespeople-ebook/dp/B00J0Y59GC/ref=tmm_kin_title_0 )