Apparently there is some kind of 'charity' football match this Sunday called "Soccer Aid". I suppose a bunch of preening, self-regarding multimillionaire celebs will be taking part while 'doing a Bono' – telling us to give our hard-earned, heavily-taxed money to their wonderful charity, while they keep their own fortunes safely hidden away from the British tax authorities.
So, where will the "Soccer Aid" money go? It will be given to UNICEF (United Nations Children's Fund) an organisation that already receives around $4.2bn a year, mostly from Western governments (ordinary taxpayers). UNICEF's boss, Anthony Lake only gets paid about $201,000 a year. But there are 36 UNICEF National Committees and that's where the real money seems to be. For example, Caryl M Stern CEO of the US UNICEF National Committee, gets about $484,855 a year (tax-free, I think, as UNICEF is a United Nations organisation). This is her, smiling with delight: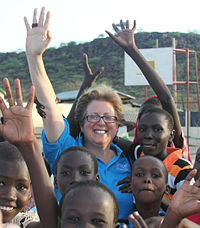 So would you, if you were pocketing that amount of cash each year.
I've tried to get hold of UNICEF's accounts to see where our money goes. But without success. All I've managed to establish is that UNICEF admits it spends around $636m on administration each year, though I suspect that, as with all the other 'charities' I've investigated, the real figure is at least three times higher.
And what will UNICEF do with the $3.588bn it does supposedly use for charity work each year? Around $2.492bn (70%) of UNICEF's (our?) money goes to help the poor in Africa. Well, that's good isn't it? After all, Africa's poor need our help, don't they?
In fact, the bleeding heart liberals and the Guardianistas of this world often claim that Africa needs a Marshall Plan to escape from its backwardness and poverty.
But hold on a minute – the Marshall Plan gave Europe $15bn (the equivalent of $148bn in today's money) over four years to rebuild after World War II. Africa currently receives about $50bn a year in Western aid. So, Africa receives the equivalent of a four-year Marshall Plan every three years and has done so for the last 60 years. That means that about twenty Marshall Plans have poured into Africa. Yet around 90% of Africa's people still live in abject poverty. I wonder why.
Could Africa's plight have anything to do with the stupidity, incompetence, greed and brutality of the kleptocratic buffoons who always seem to get power?
So, if on Sunday's "Soccer Aid" some multimillionaire celeb tells you to give give give to a wonderful cause. Don't bother. Repeated studies by foreign aid experts have shown that over 80% of all the money given to Africa is lost due to corruption and incompetence.
Oh, and to cheer us all up, here's a Bird and Fortune sketch in which an African dictator, George Mparrbe, is being interviewed about what he's doing with all the Chinese money flowing into his country http://www.youtube.com/watch?v=uwQWi4bahas Enjoy