As UKIP launches its poster campaign, anyone who feels that British sovereignty has been surrendered to a corrupt, undemocratic, bureaucratic superstate ruled by unelected komissars is being accused of being a 'racist' by the mainstream media https://www.youtube.com/watch?v=OSzVRg3CNMQ
The desperate Daily Torygraph is even claiming "Ukip is worse than the BNP" and this is why (click to see more clearly)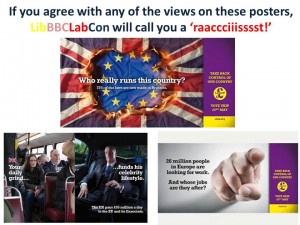 So, I have to confess, having spent time in Brussels writing my book THE GREAT EUROPEAN RIP-OFF and having experienced at first hand the greed, arrogance, venality and kleptocracy of the EU elites:
–  I believe Britain should stay in Europe, but get out of the EU
– I believe Britain should control its own borders
– I believe Britain should decide who can come to Britain and who should be thrown out
– I believe that 46,000 people arriving to live in Britain every month is far too many for a small, crowded island
– I believe that Britain's welfare state should support those who have contributed or British people who need help, not every piece of benefits-scrounging garbage from anywhere in the world
– I believe that the NHS should be a national health service not an international health service
– I believe that immigrants should adapt to our culture and customs rather than us grovelling to immigrant minorities
– I believe the BBC budget should be cut by 70% and the BBC restricted to making impartial news programmes, dramas and natural history programmes
– I believe we should get out of the European Convention on Human Rights and replace it with a British declaration of Human Responsibilities and Rights, whereby people refusing to accept responsibilities lose their rights
In spite of the fact that I speak several European languages and have lived and worked in Europe most of my life, I am apparently in the eyes of the LibBBCLabCon establishment a narrow-minded, little-Englander racist! If that's the case, then I'm proud to be a raaaccciiiist!!!!!