Sadly, despite my many days' appeals, none of my readers have been able to find the few pounds necessary to show their support for this website by buying a copy of my recent book GREED UNLIMITED. Perhaps it's because this website has the poorest readers in Britain? Or perhaps it's because my readers have generously donated their spare cash to the recent BBC Sport Relief appeal? If you have been handing your hard-earned cash to the BBC's Sport Relief, I've got some baddish news for you.
From what I can see, the two major BBC charity campaigns – Sport Relief and Red Nose Day – are run with a private company registered as Charity Projects (company number 1806414). The supposed aim of this company (which is also a registered charity) is "to seek to spend its money as effectively and professionally as possible. It also aims to raise awareness of its operations both to grant applicants and the public in support of its vision of 'a just world free from poverty' and the mission of 'positive change through the power of entertainment'".
Charity Projects (better known as Comic Relief) runs Sport Relief and Red Nose Day  on alternate years. Sport Relief raises about £45m to £53m in the years when it runs and Red Nose Day pulls in a much more impressive £70m to £90m in the years when it runs. So, lots of money flowing into this company/charity. But where does this money go? To real charitable works? Or into the bulging pockets of those lucky enough to be living (extremely well) off the British public's generosity?
Let's start with how much of the British public's money is grabbed by those working in Charity Projects. The 'cost of generating funds' rose from £9.278m in 2009 to £13.014m in 2010, fell slightly to £12.927m in 2011 before rocketing up to £17.720m in 2012 (I only have the figures up to 2012 as the company's 2013 accounts have not yet been published by the Charity Commission). So the company has increased the amount of our money it takes for itself by 91% between 2009 to 2012. Yippeee, it's party time! (click to see more clearly)
And how many "charitable" people work for this great company. This flew up from 180 to 288 between 2009 and 2012
And what about the average employee cost? Again up, up, up!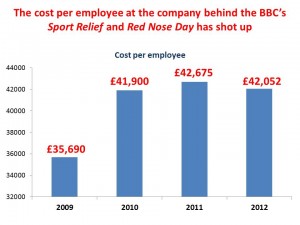 Remember (see yesterday's post) the average employee cost at most other major charities is around £25,000 a year. So, employees at Charity Projects get an awful lot of our money compared to employees at other charities.
And what about the salary of the company's boss Kevin Cahill CBE? Yabba-dabba-doo – up, up up! Up 32% from £99,290 to £130,823 in just 4 years
The BBC's Comic Relief campaigns (Sport Relief and Red Nose Day) are certainly charitable. But perhaps they're rather too charitable to the company Charity Projects, its boss and its employees?  Are we being scammed? (IMHO) YES WE ARE!!