I'll keep it short today as I've already explained in great detail why I believe Putin's actions over the Crimea were justified, decisive and skilful: why I believe the West's response is dishonest, hypocritical and dangerous and why I'm amazed that our useless leaders are trying to fight the last (Cold) war rather than allying with Russia against our common enemy – radical Islam (though some readers might be tempted to take out the word 'radical').
Anyway, as Putin looks at the West's military capabilities, how afraid is he? Here's a picture of four neat-looking ladies (click to see more clearly)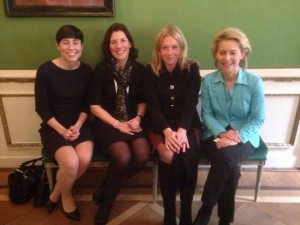 But do you know who they are? Former models? No. Successful business-women? No. Hyper-shopping wives of political leaders? No. In fact, they're all defence ministers from key European countries. From left to right there's Norway, Sweden, Netherlands and Germany. Whooaar! as the Sun might say, nice totty!
I don't mean to be sexist and I'm sure these ladies have many talents – nudge, nudge, wink, wink. But how many of them are battle-hardened warriors with a deep understanding of military matters? How many of them have any experience of warfare, apart from fighting their way through the crowds at the January sales? And how many of them got their jobs due to political correctness rather than relevant experience?
Perhaps it's surprising that they're not all Muslim women? After all, that really would tick all the political correctness boxes. Though maybe in a few years they will be?
In contrast, here are a few photos of Sergei Shoigu. He's the Russian defence minister.
I doubt Sergei has heard of political correctness. But I bet he knows how to handle himself on a battlefield. And that's probably an important and relevant qualification for a defence minister.
So, how afraid is Putin of Europe's handbag-wielding totty? Probably not quaking in his boots.
But if you've 2 to 3 minutes spare, here's some gun-totting totty we should all really be afraid of. This is a tape-recording of the "democratic" (actually utterly corrupt, embezzling, as rotten as Yanukovich) darling of the West, former Ukrainian PM Yulia Tymoshenko, discussing how she wants to kill as many 'f**k*ng Russians' as she can and also nuke Russia https://www.youtube.com/watch?v=6RxSzSWbcxo Lucky she doesn't have any nuclear weapons left in the Ukraine or else we'd all be hiding under the kitchen table.
(I'm selling about one copy of GREED UNLIMITED a week. Can anybody please show their support for this website by upping that figure just a little?)