This weekend, the British media really went into anti-Putin overdrive. Various "experts" claimed that Russia was about to invade the Ukraine or Moldova or the whole of Eastern Europe. I don't buy it and I'm astonished at the propagandist and inflammatory language being used:
1. Annexing the Crimea Russia did not "annexe" the Crimea. There was a vote – a little rushed – but it was overwhelmingly in favour of Crimea rejoining Russia after 60 years (1954 to 2014) of being part of the Ukraine
2. Russia attacking Ukrainian military bases Once Crimea became part of Russia, Russian troops understandably moved to disarm any Ukrainian troops on Russian territory. In fact, I'm impressed at how swiftly, professionally and bloodlessly the whole operation was carried out
3. The Putin "Regime" Western media constantly refer to Russia's leadership as "the Putin regime". Why? Putin is an elected leader. Yes, he's a tough guy and rules with a hard hand. But as the West's ghastly (400,000+ people dead) misadventures in the Middle East show, different countries have differing cultural and political histories and our form of Western democracy is simply not suitable for every country in the world. In fact, if there's an unelected "regime", then perhaps the Barosso regime is worse than the Putin regime because at least Putin was elected unlike Barroso and the other corrupt, unelected, greedy, self-serving kommissars who rule us
4. The coming Russian invasion I don't believe Russia is planning to invade anyone. But if the new Ukrainian government behaves like a bunch of narrow-minded, nationalist idiots and starts oppressing the Russian population in Eastern Ukraine by, for example removing Russian as an official language, excluding Russians from jobs and so on, then yes, Putin will send in the troops
5. Putin the new Hitler Some commentators have even been comparing Putin to Hitler. This is completely unacceptable. Putin is a tough leader who defends the interests of his country and won't be pushed around – absolutely. It's a pity our rulers don't defend our interests in the same way. Here are some photos of Putin and Obama meeting other world leaders (click to see more clearly)
While Obama bows and scrapes, Putin looks them straight in the eye as if to make clear he won't accept any b*llsh*t from them.
And here's a close-up of Obama grovelling to the Saudi king and three pictures of Putin not grovelling to Obama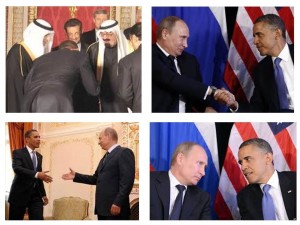 Oh for a British PM with  the same clear-headed, direct focus on our national interests. Oh for a British PM with cojones and a backbone.