ECONOMIC RESEARCH COUNCIL – EVENTS
Monday 24th February
"The Great Savings and Pensions Scandal"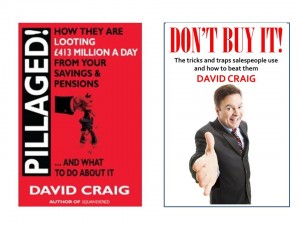 David Craig
Author and speaker
VENUE: ROYAL OVERSEAS LEAGUE
Park Place, St. James's Street, London, SW1A 1LR

6.30 pm

Drinks and Networking

7.00 pm

Event start

7.30 pm

Q&A

8.00 pm

Finish
Every place includes a complementary glass of wine or soft drink.
ABOUT THE SPEAKER
David Craig spent most of his career selling for some of the world's best and worst management consultancies. After writing two whistleblowing books, Rip-Off and Plundering the Public Sector, about how consultants take millions from businesses and government departments while delivering little of value, he was blacklisted and so left the profession. Since then he has written several books about government incompetence, stupidity and waste, including Squandered How Gordon Brown is wasting over one trillion pounds of our money and Fleeced How we've been betrayed by politicians, bureaucrats and bankers, both of which won the Hammond Whiteley journalism award.
His most recent book, Don't buy it! The tricks and traps salespeople use and how to beat them, has just been published.
To book tickets, please visit the ERC website: www.ercouncil.org