In the United States only citizens can vote in national or state elections and in Canada only citizens are entitled to vote in federal elections. In Australia, Commonwealth citizens had the right to vote in elections until 1984. However this was changed so that only Australian citizens and British subjects, (a term covering all Commonwealth citizens) resident in Australia before 1984 can now vote. In New Zealand only citizens and permanent residents can vote in elections.
Voting Rights in the UK
By contrast, the UK extends parliamentary voting rights to many millions of non-citizens. Irish citizens can vote, a reciprocal right granted to the British in Ireland. So can Commonwealth citizens whose right to vote is not linked to length of residence or permanent residency, but is granted on arrival. An address in the constituency is required, but there are no checks on immigration status. Thus even a student visitor from a Commonwealth country, who was planning to study for six months, would be allowed to enrol on the Electoral Register and vote in a Parliamentary Election if one was held during the duration of his or her stay.
Citizens of the European Union (who are not Commonwealth citizens or Citizens of the Republic of Ireland) can vote in European and local elections in the UK, elections to the Scottish Parliament and Welsh and Northern Ireland Assemblies (if they live in those areas) and some referendums (based on the rules for the particular referendum) but are not able to vote in UK Parliamentary general elections.
So, how many EU citizens are there in the UK? The EU claims there were only 2,334,400 in 2011 (click to see clearly)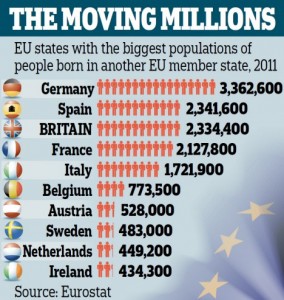 But as the EU will tend to underplay the level of immigration and as many more people will have moved here since 2011, we can safely assume that there are really say 3.5 to 4 million. Studies of newly arrived (as opposed to long-term settled) immigrant populations suggest that around 3 to 3.5 million will be of voting age.
This means that in the May EU elections, there will be potentially 3 to 3.5 million people (EU citizens) who will vote for any party other than UKIP and who are unlikely to vote Tory.
Moreover, when New Labour were in power, Gordon Brown commissioned a study of how many Commonwealth citizens there were in Britain and what their voting intentions were. The conclusion – there were well over one million of them and over 90% would vote Labour. Naturally, when they found this out, New Labour were only too happy with the UK's "inclusive" rules on who can vote here (click to see clearly)
So we have a massive block of well over 4 million people, who are not British citizens and who will tend to support Labour and vote for things like membership of the EU, who can vote in the coming EU elections.
It looks like the EU's plan (aided and abetted by our own politicians) of destroying our national identity and wiping out our sovereignty by swamping us with immigrants is really working quite well.