I've blogged before about how the policies being pursued in Britain and the US are making the rich richer and the rest of us much poorer (click on pictures to see more clearly)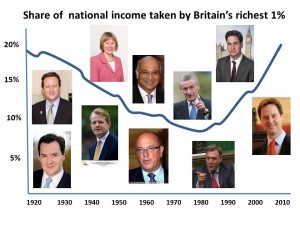 In fact I've written a whole book about it – GREED UNLIMITED – but nobody seems to be interested as I only sold about 200 copies, which is pathetic.
Well here's more evidence that the rich – politicians, bureaucrats and bankers – are having an absolute hoot while the rest of us swallow all the guff about austerity and the need to support the banks and so on and so forth. It's a Gallup poll from the US looking at which income groups support Ben Bernanke's policies (giving hundreds of billions of ordinary people's taxes to his banker friends).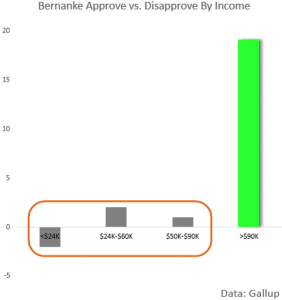 The result is so clear, that I guess I don't need to say anything about it.
Meanwhile we get ever more evidence that our friends in banking are truly taking the p*ss. In the USA, the bank JP Morgan Chase has had to pay around $20bn in fines for unethical and probably illegal behaviour. So, what did the bank do? It fired 7,500 ordinary employees, imposed a pay freeze on all remaining employees below executive level and gave the bank's CEO, Jamie Dimon a pay rise of around 74% from about $12m to around $20m. No wonder Mr Dimon always seems to be smiling.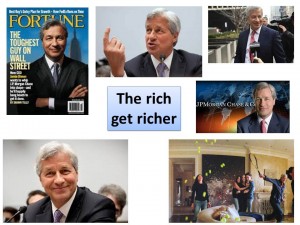 Here the EU has tried to impose rules limiting bankers' bonuses to no more than 100% of their salaries (and 200% in special cases). So, most banks have hugely increased executives' salaries and have started to pay their top people hundreds of thousands of pounds a year in "allowances" to get round the new rules http://www.thesundaytimes.co.uk/sto/business/Finance/article1370353.ece
Meanwhile the taxpayer-owned RBS, which is haemorrhaging money in losses and fines, continues to pay bonuses "to attract the best people". Yet RBS have to pay £1.9bn for fines and damages relating to mis-selling mortgage bonds in the US as well as other penalties relating to market manipulation, have £650m of losses for mis-selling payment protection insurance (PPI), £500m of losses for compensating small businesses who were wrongly sold interest rate hedging products, £4.5bn of further losses on bad loans and investments and unspecified further losses from selling off bad assets. Best people?????
The rich must really be laughing at our stupidity.