Recent revelations have shown us that our good honest police (probably encouraged by the politicians) have been fiddling the crime figures for years to make it look like crime is falling, when it actually may be spiralling out of control.
I'm no statistician, but I've been playing around with the figures the police do report (which hugely underestimate the real level of crime) and come up with some quite unpleasant conclusions.
Even if we were gullible enough to believe the police's fiddled figures, that would still give us about 2,961,776 crimes committed in England and Wales each year. Here are the main categories of these 2,961,776 crimes (click to see more clearly)
This means that an incredible 56,957 crimes are committed in England and Wales each week: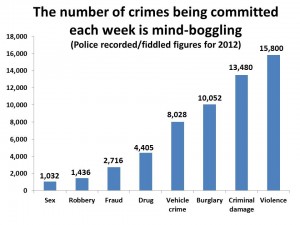 This is almost terrifying – over 1,000 sex offences each week, over 8,000 vehicle crimes, about 10,000 burglaries a week and an astonishing 15,800 violent crimes each week.
Maybe it's time to buy some awfully good insurance.