Until recently, people in Britain and other countries would protest against our self-aggrandising leaders' attempts to involve us in pointless, unnecessary wars. And we would see scenes like this (click to see more clearly)
But since the mass arrival in Britain of millions of people belonging to a certain religion, we now see protests in support of hatred, intolerance and war – scenes like this (click to see clearly)
And like this (click to see clearly)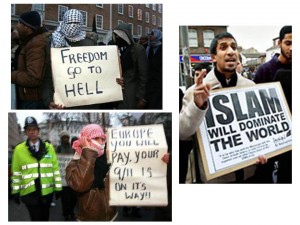 And anyone who voices their concerns about what is happening in Britain is immediately branded as a bigot and a racist by the mainstream media and particularly the overpaid, over-pensioned, greedy, self-serving, self-righteous liars at the Burka Broadcasting Corporation.
How have we allowed this to happen to our once tolerant country?
If, like me, you are deeply concerned about the way we are allowing bigotry, hatred and intolerance to flourish and, like me, you find these demonstrations deeply disturbing – I guess that makes you, like me, bigots and racists in the eyes of the politically-correct establishment and the Guardianistas who run the Burka Broadcasting Corporation.