Anyone who claims that Britain can cope with the current rate of immigration of almost 400,000 people a year is either a liar, a fool or both. Britain's population is growing too fast (click to see more clearly)
But a key indicator of our quality of life is not just the population density of the country, but what happens in our major cities. A typical Asian mega-city has around 40,000 to 60,000 people per km2. And this is what daily life looks like: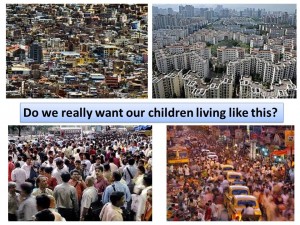 Yes, it looks like Hell!
A typical British city has "only" around 4,000 to 6,000 people per km2. Though I suspect there are areas of London and Birmingham that are fast approaching Asian mega-city population densities: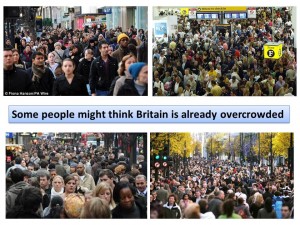 Britain is already full and our cities are full.
Being in Asia for a couple of months makes you realise the hell that awaits our children – noise 24 hours a day (screaming, shouting, car alarms, car horns, lorries, constant loud music), streets where swarms of people and cars can hardly move, pollution, rubbish that piles up, homeless people sleeping rough, beggars on every corner, people urinating and defecating and utter filth everywhere. We've already got a small foretaste of this from the Roma gypsies sleeping rough in London.
This is going to get worse, not better.
The EU wants to flood Britain with Europe's unemployed and unemployable and get us to pay for the EU's widespread corruption and economic collapse. We can't afford to take in millions of the EU's  unemployed – whether decent people or (more likely) benefits-scrounging and criminal trash – and we've no room for them.
And Human Rights laws mean that anyone from any Third World hell-hole can stay here and bring their extended families who can then bring their extended families who can then bring their extended families and so on whether they work and obey our laws or whether they are criminal scumbags who are a threat to our society.
Is this really the kind of teeming, overcrowded, fetid, foul-smelling Dystopia we want for our children and their children? We need to save Britain! We need to reclaim control of our borders! We need to vote UKIP!