I've written before about the many benefits Britain's 300,000-strong Somali community have brought to our country – religious intolerance, FGM, oppression of women, terrorism and murder and a massive drain on our country's resources. With only about 35% of Somali men and less than 10% of Somali women in work, I believe that Britain's Somalis are costing us over £6bn a year in housing, education, healthcare and benefits. In fact, Britain's Somalis make so much money in benefits that they can easily afford to send around £500m a year of our money back to their extended families in the blighted hell-hole Somalia.
But this cost of £6bn a year doesn't take account of the social disruption caused by Britain's Somalis – the underachievement of Somali children in our schools which is disrupting the education of children who actually want to learn something, the blocking of our healthcare system so that British people who have worked and paid tax all their lives cannot get medical care, the vast amount of social housing that has been given to Somalis leaving British workers in expensive rented accommodation, the extraordinarily high level of criminality among Somali youth which is tying up police and court resources and the fact that to thank us for our generosity to them, Britain's Somalis hate us and have been the most active group launching terrorist attacks against our country.
But the problems that Britain's wonderful Somali community are causing us, may soon seem like small beer compared to the joys that lie in store for us when the Roma invasion really gets going. We already have (according to Government statistics) over 200,000 Roma in Britain. So, the real figure is probably double that. The Government won't tell us what the unemployment rate amongst the Roma is. But I would suspect that less than 10% of Roma men and less than 5% of Roma women actually do any legal paid work. We can reasonably reliably assume that the Roma are already costing us as much as our parasitical Somalis – so about £6bn a year. At least another 500,000 (and possibly more) Roma will to flood into Britain once they gain full rights to these benefits after 1 January 2014
Attendance Allowance
Child Benefit
Council Tax Benefit
Guardian's Allowance
Housing Benefit
Income Support
Income-based Jobseeker's Allowance
Industrial Injuries Disablement Benefit
Carer's allowance
Reduced Earnings Allowance
Severe Disablement Allowance
Statutory Sick Pay
State Pension
Then we can expect the direct cost of Roma to hit say £12bn a year.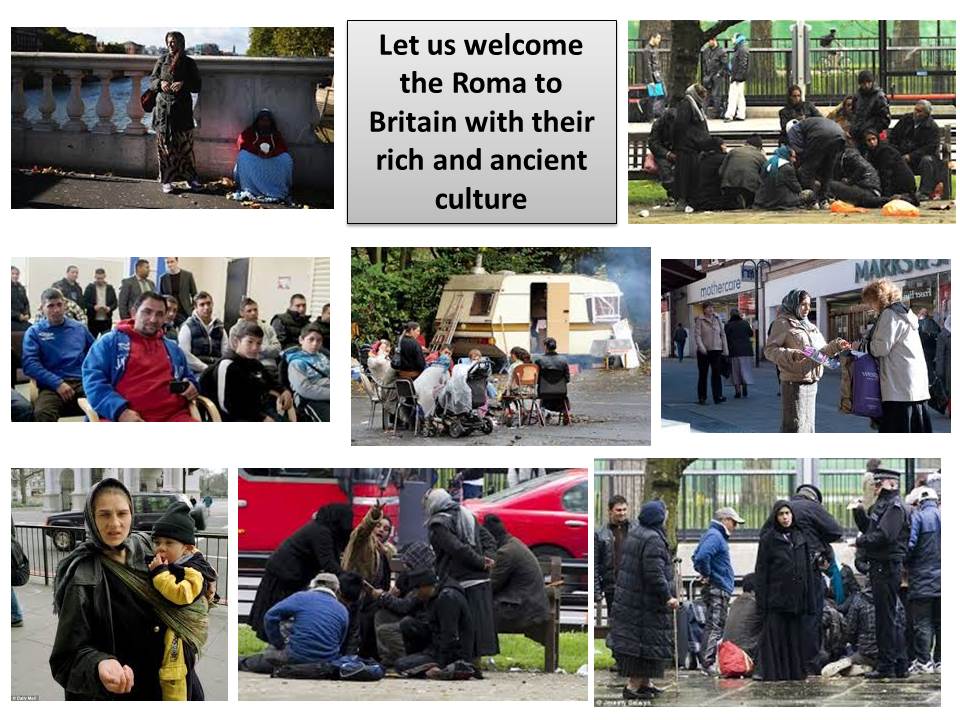 As one Roma village leader said, "The only thing that will be left here is the donkey".
Then there is the social disruption – anti-social behaviour, disruption to the NHS, disruption with our social services, disruption in our schools (when the Roma children can be bothered to turn up), high levels of criminality (especially burglary), destruction of neighbourhoods and so on. The situation is already so bad in Sheffield that David Blunkett has predicted race riots.
And there's absolutely nothing we can do about this impending disaster for our country because it's Portuguese ex-communist Barosso who decides who can come to Britain, not the British Government. I think we should give up the Armistice Day ceremonies – after all, today's greedy, self-serving, spineless politicians have given away the freedoms for which so many hundreds of thousands fought and died