This week the Tories have been having multiple orgasms because our GDP supposedly grew by 0.8% in the latest quarter. Cameron, Osborne and their chums hope this "good news" will carry them through to an election victory in 2015. But their intense delight at Britain's supposed economic recovery has been rather spoilt by 8% to 10%  rises in energy bills. And Cameron was absolutely massacred over energy prices by a surprisingly rampant Ed Miliband on Prime Minister's questions in the Commons.
The problem for the Tories is that, while they swoon with post-coital pleasure over the economic news, the people who will be voting in 2015 will be influenced by their own, not the country's, economic situation. And while life looks wonderful for the Tories and their rich friends with their large salaries, expenses, pensions, property holdings and investments, 90% of the population are seeing their living standards being savaged.
The top 1%, the top 5% and the top 10% of Britain's population have seen their earnings shoot up over the last twenty years. But 90% of us have seen our incomes stagnate:
(Apologies that the chart only goes up to 2010 – but since then incomes for the top 10% have been shooting up again)
Yet while our incomes have stagnated, prices have been going up:
The chart shows CPI (Consumer Price Index) – but real prices have probably been going up almost twice the rate our Government admits.
Even worse for Cameron and his cronies, the Government doesn't see living standards reaching their 2007 levels till well after 2018:
This has allowed Miliband to suddenly turn from zero to hero with a new winning strategy – stop attacking the Tories over the economy and start attacking them over living standards. Miliband is right, this has been a recovery for the rich.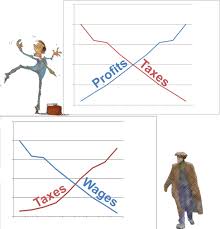 And that's what will probably win Miliband the next election.
(I won't be blogging tomorrow as I'll be travelling. Next entry will be on Tuesday)