A reader sent me an interesting comment/question on yesterday's blog about our rip-off energy companies:  "I'm normally with you David but this one makes me uneasy. Are you saying that a profit of 22% is too much and that governments should step in whenever a company makes that kind of profit? Where would you draw the line on this? 10% 15% 20%? Does this apply only to energy companies or to businesses in all sectors? There's more to all this than meets the eye. There's clearly a margin for competition to come along and undercut there but it seems that it isn't happening. Why not?"
The reader seems to be asking two main questions: 1. What profit levels should the energy companies be allowed? 2. With such high profit margins, why is there not more competition?
Let me deal with the 2nd question first – why is there not more competition? The energy business consists of two main parts – "upstream" which is power generation and "downstream" which is power transmission and supply to customers. What the Big Six companies do is push up their profit margins to at least 24% on the "upstream" part (power generation)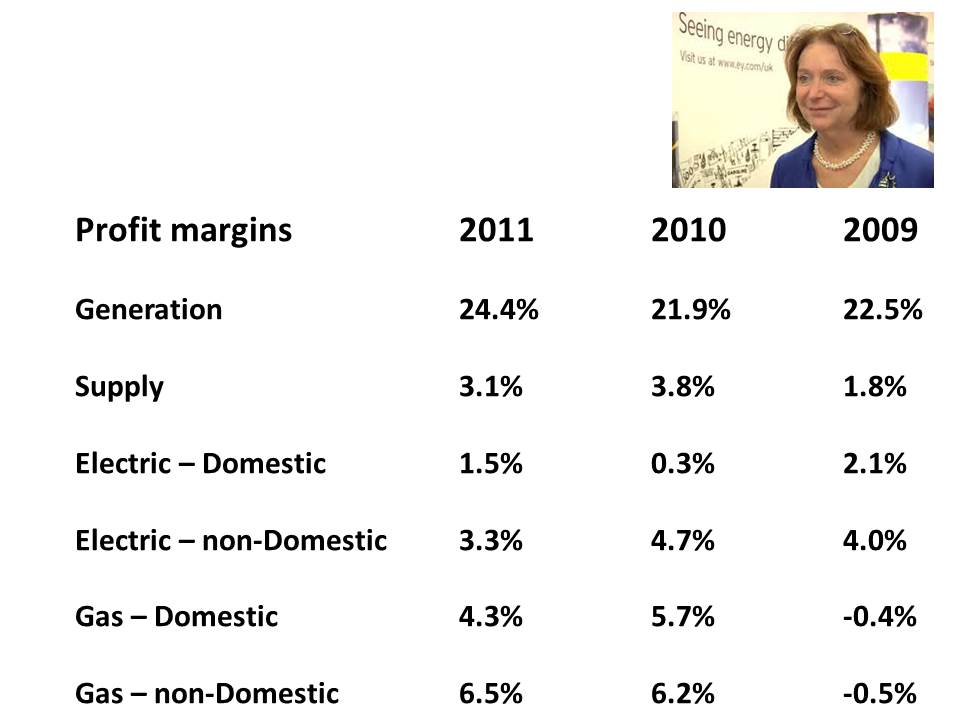 This has two wonderful consequences;
1. They can claim they make small profits They charge themselves so much for the power they produce (or gas they supply to themselves) that they can only make a small profit – about 5% – on their "downstream" business. So, when they raise prices as they do every year, their PR people can come on TV and claim that they make very little profit (5% or so) while conveniently forgetting the massive profits made in the "upstream" part which is about two thirds of their costs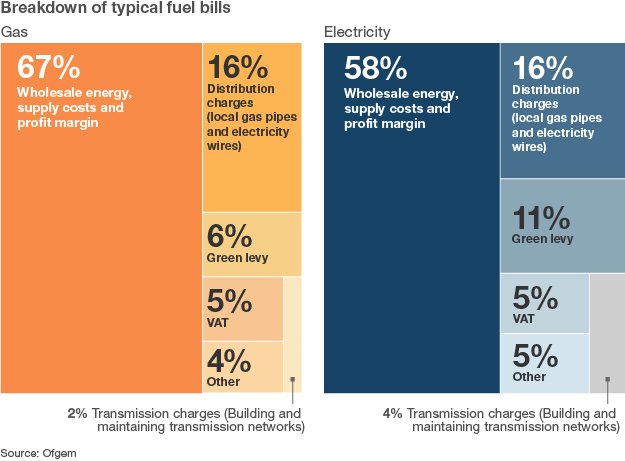 Oil companies play a similar game – pushing their profits into "upstream" (oil extraction) so they can claim they make very small profits on their filling stations.
2. They keep out competition It's very difficult for a new competitor to enter the "upstream" business as it costs so much to build a new power station or gas platform. Competitors can easily enter the "downstream" part. But they have to buy their power and transmission from the Big Six. As the first chart shows, the Big Six charge so much for power (where they make their 24% profit margins) that the profit margins on "downstream" are very small, giving little room for would-be competitors to undercut Big Six prices.
So, when our useless politicians tell us to switch suppliers, we'll actually save very little as the Big Six have stitched up the market between them.
As for the first question What profit margins should power companies be allowed? When an essential service like power is being controlled by an oligopoly of just six (mainly foreign-owned) companies, then there is a need for a real regulator (not the worthless Ofgem) to prevent market abuse. I believe that companies like French EDF, Spanish Iberdrola and German E.0n are only allowed to make profits of somewhere between 3% and 5% in their home markets. But according to my calculations, they're making about 17% in Britain – 3 to 5 times as much as they're allowed in their home markets, which of course is why foreign companies are so keen to buy Britain's "cash cow" energy companies
As for the future of our energy prices, it's going to be a case of up, up, up thanks to the horror of the ludicrous Climate Change Act which was supported by all three major parties.
The current "strike price" for electricity is around £44 per MWh. But the offshore wind generating companies (mostly foreign) are going to receive £155/MWh (ie more than THREE times as much) for their intermittent totally unreliable electricity!
Wave and tide generated electricity will cost us £300/MWh – ie SIX times the current price. And nuclear will be at least twice the current price and probably much higher.
And the deranged Ed Davey tells us that his Green policies will result in a reduction in fuel bills of £144p/a by 2020.