Our great PM David "Cast-Iron Promise" Cameron has pledged to get UK net migration below 100,000 before the next election in 2015. However, the latest figures show net migration rose to 176,000 between September 2012 and September 2013 – up from 153,000 people in the previous year. And now, after 3 years of completely ignoring immigration, government ministers are rushing round TV and radio studios boasting about the new Immigration Bill they are trying to quickly cobble together to make it look like they're finally taking action. I think we have UKIP to thank for the useless Coalition's unseemly haste to give the impression they're finally taking public concern about immigration seriously.
But I worry about the use of "net immigration" (or "net migration") figures. By using "net migration" figures, our leaders make immigration appear much smaller than it really is. After all, 100,000 or 150,000 people coming to Britain doesn't sound too serious. I'll repeat a chart I used yesterday. This shows what is really happening: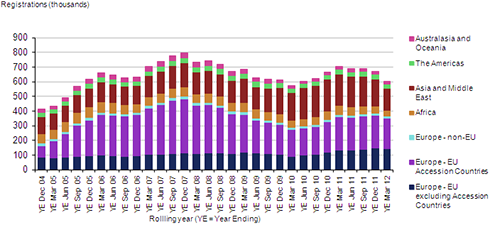 Between 600,000 and 700,000 people are arriving in Britain legally every year (nobody has a clue as to how many illegal immigrants are flooding in). That's more than 12,000 a week. These 600,000 to 700,000 do not share our language, our culture, our traditions or our values.
So, when people are worried about immigration, they're not focused on the conveniently low "net migration" figures politicians like to use. What's affecting our lives are 600,000 to 700,000 new arrivals every year. Our schools, hospitals, police, housing stock and benefits system are all struggling under pressure from these 600,000 to 700,000 new arrivals.
Unemployment amongst these new arrivals is much higher than it is for indigenous Brits: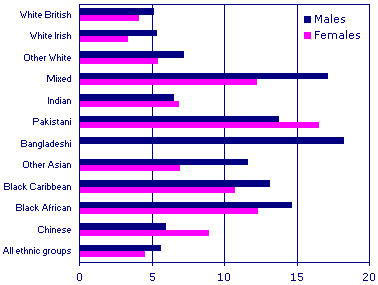 And crime amongst the migrant communities is much higher than amongst indigenous Brits – around 90% of ATM robberies and frauds are carried out by Romanians: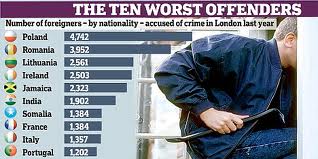 And, of course, all new arrivals almost immediately get access to the following benefits even though they have never contributed anything themselves:
Attendance Allowance
Child Benefit
Council Tax Benefit
Guardian's Allowance
Housing Benefit
Income Support
Income-based Jobseeker's Allowance
Industrial Injuries Disablement Benefit
Carer's allowance
Reduced Earnings Allowance
Severe Disablement Allowance
Statutory Sick Pay
But next year, our leaders will have a new trick to play on us to make it look like they are controlling immigration. Official immigration figures do not (I believe) include people coming from other EU countries. So the 100,000 or 200,000 or 300,000 Romanians and Bulgarians who will move to Benefits Britain from 1 January 2014 will not be counted as "immigrants".
It's wonderful (for our lying politicians) – hundreds of thousands more people will flood into Britain further degrading our economy, our schools, our healthcare, our housing and our quality of life and our politicians will still be able to claim "we're reducing net migration".
So, please don't believe our politicians' "we're reducing net migration" lies.