EU stooges Gay Dave Cameron and his panicking Tories have realised that they have nothing to offer voters at the 2015 General Election. So, they've decided on a strategy of trying to scare possible UKIP voters into supporting the Tories. The constant refrain we're going to hear from the Tories up to the 2015 Election is that if people vote for UKIP, that makes it more likely that the useless Miliband and the sociopathic liar Balls will win. But is this actually true?
In Scotland, there are 59 parliamentary seats. Just one (yes one) is held by a Tory. So anyone voting UKIP in Scotland will be taking votes from Miliband's Socialist Party, not Gay Dave's fake Conservative Party.
Then there's Wales. The Tories hold just 8 of Wales' 40 seats. So in Wales, voting for UKIP will mainly be taking votes away from Miliband's Socialists.
And there's the North of England and the Midlands. Of the 124 urban seats in the North and the Midlands, Europhiliac Dave's fake Conservative Party hold just 20. So here, votes for UKIP will mainly be votes against Barroso's and McCluskey's glove puppet Miliband and his Socialist Party.
That just leaves the South. What might happen there? Well, in the last by-election, Eastleigh, UKIP came second beating Euro-Dave's phoney Tories into third place. And if the campaign had gone on for just one more week, UKIP probably would have won (click to see more clearly)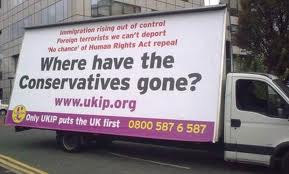 Between now and the 2015 General Election, we have the not insignificant matter of the May 2014 EU Elections. Indications are that UKIP will secure more seats than Euro-Dave's pretend Tories or Red Ed's rabid Socialists. That will convince many doubters and waverers that there is a real alternative to Euro-Dave's fake Tories and Red Ed's ghastly Socialists. I think and hope that the 2014 EU Election and the 2015 General Election are going to be a disaster for the ConLabLib Party's comfortable grip on power and privilege. They will be a "plebs revolt" against our arrogant, incompetent, self-serving, thieving rulers.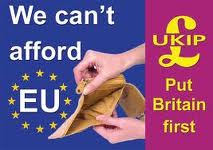 Don't believe Euro-Dave's lies and smears and scare tactics. A vote for UKIP is just that – a vote for UKIP. And a vote for UKIP is a vote against our smug, self-serving and useless ruling elites who have been running the country into the ground for so long.
Oh, and here's a picture of Euro-Dave, as usual not standing up for Britain: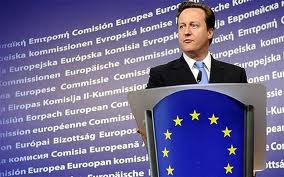 (click on title to leave a comment or see comments)