Here's a picture with six clowns and one great international statesman. Can you spot who are the clowns and who is the great international statesman?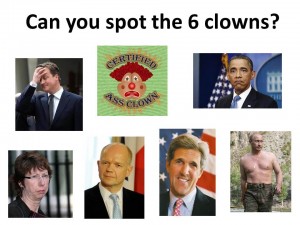 Yup. That wasn't very difficult. While Cameron, Hague, Hollande, Obama and Kerry have behaved like idiots, buffoons, fools, clowns over their desperate attempts to get involved in yet another pointless, internecine Middle East war that has nothing to do with us, there has been one person who has behaved calmly and thoughtfully – Russia's Vladimir Putin.
It has become fashionable in the press to criticise Putin over the lack of real democracy in Russia. But Russia is not Kensington or Notting Hill Gate where most of Britain's chattering classes live. Russia is a huge, almost ungovernable country. Russia's surface area is 17,098,246 km2 compared to the US at 9,629,091 km2 and Britain at a pathetic 242,900 km2. So, Russia is almost twice as large as the US and seventy times larger than the UK.
Moreover, Russia was facing complete chaos until Putin took over. Putin has been the best thing that every happened to Russia since Boney M sang "Ra-Ra-Rasputin, lover of the Russian queen". Under Putin's rule, the earnings from Russia's oil, gas and minerals have not been squandered as they are in most other resource-rich countries. Instead they have been (more or less) invested in imposing order in this vast country, in modernising it and in building a new middle class of highly educated people. Visit any holiday resort around the world, and the people you'll see buying holiday homes and yachts are mostly Russians. This is an incredible, almost unbelievable change from just a couple of decades ago and light years away from what happened when Russia was the Soviet Union.
Of course, there have been problems. You can't move from totalitarianism to chaos to peaceful development and national economic success in just a few decades without a certain degree of central control. And you can't have a country earning so much wealth without some of it being siphoned off by corrupt politicians, bureaucrats and businessmen.
We are making a terrible mistake in constantly attacking Putin over supposed human rights abuses and corruption in Russia. The West and Putin have one common enemy – radical Islam.
But instead of understanding this and working together with Russia to fight the spread of radical Islam, idiots Cameron, Hague, Obama, Kerry and Hollande want to turn our military into Al Quaeda's air force. It's time to stop demonising Putin and to realise that Russia and the West are on the same side.
How long will it take for the clowns that rule us to tell the difference between our friends and our enemies?