With the May 2015 General Election just 20 months away, let's look at the political titans and buffoons that will be fighting for our votes.
Firstly, Labour. Here is what I think is the Labour 'dream team', the team that could crush the Tories: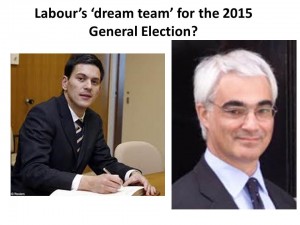 But, of course, as Len McCluskey runs the Labour Party, we're not getting the 'dream team'. Instead we're getting these two idiots: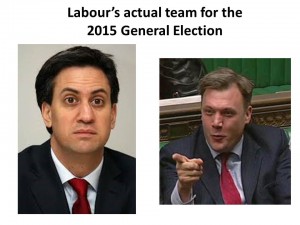 There's Ed Miliband – a waffling, pointless, characterless nobody who never had a proper job in his life and who will grovel to his master the Portuguese Communist Barroso at every opportunity as they both eagerly create the Socialist European superstate. Oh, and it was Ed Miliband who, as Secretary of State for Energy, brought us the disastrous 2008 Climate Change Act which is forcing us to close down perfectly good coal-fired power stations, at the same time as China, India and Germany are building more of them, and which is pushing up our energy prices making our industry uncompetitive and resulting in thousands of job losses. And there's Ed Balls. The cretin who helped the financially incontinent Gordon Brown bankrupt Britain by wasting over £1trn of our money creating a bloated public sector and a benefits-dependent underclass of several million.
So, given that Labour is being led by donkeys, who will the Tories be putting up as their top two candidates? Yup, it's these two: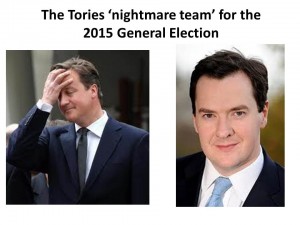 That then begs the question – who should the Right be putting in as their best hope of beating the hopeless Miliband and the useless Balls? How about these two?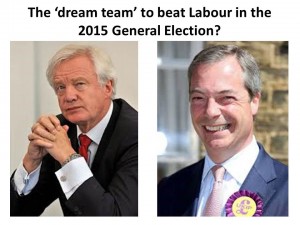 How about a Tory/UKIP alliance where the two parties who should be representing Britain's interests worked together to thrash the Europhiliac Socialist Labour/Benefits Party? The Tories under anyone but Cameron could go into an electoral pact with UKIP whereby, in return for the Tories not standing against UKIP in, say 30 seats, UKIP would support the Tories in the other 620 constituencies?
But that would require Cameron and Osborne putting their country's interests above their own egos. Likely to happen? Sadly not.