– Is your family originally from India, Pakistan or Bangladesh?
– Do you have relatives still there who'd rather like to come and live in Benefits Britain?
– Are you a bit worried that even Britain's hopelessly relaxed and rarely applied  immigration rules might be a problem?
Don't worry. The BBC's Asian Service can help. They advise you to use what's called the "Surinder Singh" route to bypass British immigration rules http://www.bbc.co.uk/news/uk-23029195
The BBC's advice goes something like this:
1. New immigration rules covering family members and dependents were introduced in July 2012. These made it slightly more difficult to import umpteen members of your family and extended family into the UK
2. However, EU immigration rules supersede UK immigration rules and EU citizens have stronger migration rights than UK citizens when it comes to bringing in family members from outside Europe.
3. So, all you need to do is go and work in another EU country for just 3 months (Ireland is particularly popular as they speak English there, sort of) and then you qualify under EU rules rather than UK rules.
4. Then it's really easy to bring family, extended family, people pretending to be extended family and pretty much anyone else into Britain to stay for the rest of their lives.
Come on! Bring you family and friends to Britain using the "Surinder Singh" route (as recommended by the BBC's Asian Service) and they can all live happily ever after – at British taxpayers' expense, of course.
And when your family members reach Britain, don't forget to get them all copies of this helpful booklet available from the nice people at the DWP in any language you wish – no need to speak English: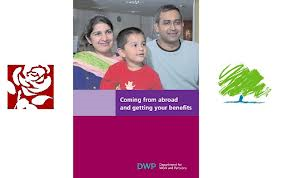 It tells them about all the wonderful benefits they can claim from the moment they arrive in Benefits Britain. Bring them all to Britain – you know it's worth it.
(Tomorrow – a look at all the loverly benefits you can get when you come to Benefits Britain)