One of the few promises our lying PM David Cameron has actually kept has been to increase foreign aid to 0.7% of GDP. This meant that in April this year, our foreign aid budget leapt by an astonishing 33% from £7.9bn last year to £10.5bn now. Just this increase of £2.6bn would have been enough to pay the salaries of the 32,400 police and 40,000 military who are being fired to save money.
As if that were not enough, let's look at who gets this money. The table below shows the main recipients of our aid money, the amount they get and their position in the Transparency International Corruption Perceptions Index. On the Index countries are rated from 1 (Denmark) meaning the least corrupt to 174 (Somalia) the most corrupt country in the world (click on picture to see more clearly or to print).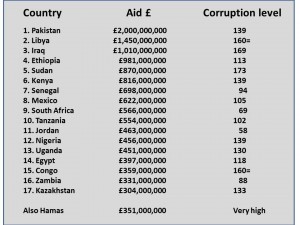 As you'll see, the most corrupt countries in the world get the most aid. Is that smart? And some countries – Pakistan and Russia – have absolutely no need for our aid at all. As for giving hundreds of millions to Hamas……expletive deleted.
Every year, the world's worst kleptocrats deposit at least ten times as much money in offshore tax havens as their countries receive in Western aid. So, if we could just reduce corruption by 10%, there would be no need to give any aid at all. And if we could reduce corruption by 50%, these countries would have five times as much money as they receive in aid and most of the world's poorest countries could start climbing out of their self-inflicted poverty.
Study after study after study by the UN and various aid experts have shown that at least 80% of aid money is lost through incompetence or stolen by corrupt politicians, bureaucrats and their business cronies. Maybe we should stop all aid and help these poverty-stricken hell-holes stamp out corruption? Or is that an unreasonable question?