(After yesterday's rather serious blog, I thought it good to lighten up today. So here's a story of "customer service" from one of so many big companies that really seem to loathe their customers)
It seems that O2 have got tired of their stupid customers calling them with problems and complaints. Also it appears that O2 thinks it's too expensive to pay UK staff to provide anything resembling "customer service". So, O2 have apparently decided on a policy of what they call "contact deflection". The aim of "contact deflection" is to make it so difficult for customers to call them, that customers give up and instead either go to the FAQs (Frequently Asked Questions) section or the webchat section on O2's website. This wonderful "contact deflection" will worsen O2's already pathetic "customer service":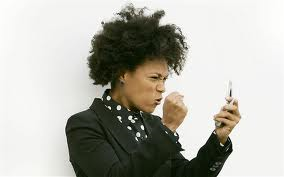 But "contact deflection" will save O2 almost £1bn over 10 years. Presumably much of that £1bn will flow into the pockets of O2 executives.
O2 have, it seems, signed a £1.2bn contract to outsource their pathetic "customer service" operation to Capita (aka Crapita). This will probably involve the closure of customer service facilities in Bury, Greater Manchester, and Glasgow by the end of 2015. Staff at O2's call centre in the Dearne Valley will be slashed from over 2,000 to 730. Capita will also cut 145 of 725 jobs from the Leeds call centre in 2015, when a 2-year jobs guarantee from O2 expires.
In all, Capita plans to retain only around 1,370 of O2's 3,700 UK staff due to be transferred at the start of the deal in July. About 500 of the 2,330 UK staff losing their jobs will be given other jobs within Capita. About 1,830 can go whistle Dixie.
A Capita call centre in Cape Town, that already handles some "customer service" calls much more cheaply than they are handled by UK staff, will be expanded from 200 to 660 low-paid employees. And a Capita centre in India offering support via web chat using extremely cheap Indian staff will also be increased.
It has been reported that staff of more than 5,800 worldwide currently "serving" O2 customers will be reduced to less than 3,000 by the end of Capita's 10-year contract. "Discouraging calls, web chat and encouraging customers to use self-service option online are expected to account for half the almost £1bn that O2 will save. Sending jobs overseas and closing sites will provide a third, with the rest expected to be derived from productivity gains."
If I were an O2 customer, I'd say "stuff you" and move to another provider – preferably one that supports jobs in Britain.