Here is the famous "Hockey Stick Graph" of global temperatures over the last 1,000 years, which the well-paid, well-pensioned members of the IPCC and the politicians use to justify bleeding us dry with "green taxes", wrecking our countryside with pointless windfarms and destroying our economy with their futile attempts to reduce carbon emissions (click on charts to see them more clearly):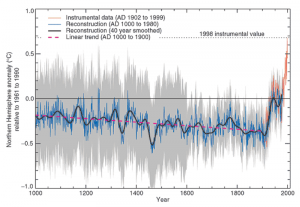 Here's a view of global temperatures for the last 415,000 years – a slightly longer period than the hockey stick's 1,000 years – based on ice-core samples;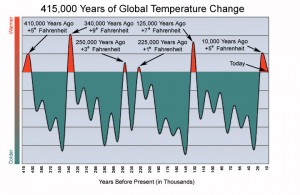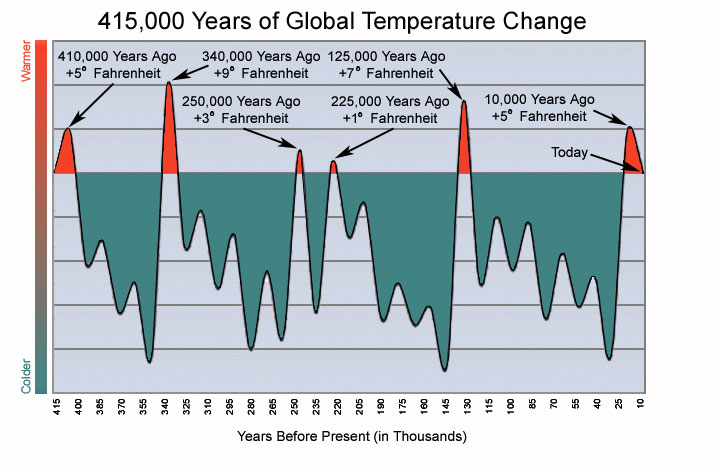 Oh, look! Compared to several periods in the past, the earth isn't actually that hot. And here's a chart showing global temperatures have been flat for the last 13 or so years:
And here's just one of the measuring stations the warmists use to support their thesis that the earth is warming: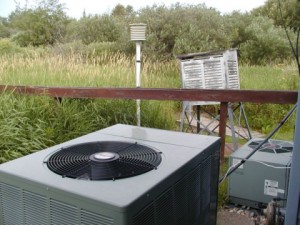 As you'll see, it happens to be positioned near the outside sections of two air-conditioning units. And, what does that mean? Well, these will keep the temperature measuring point nice and warm, however cold the winter.
And here's sad-looking polar bear: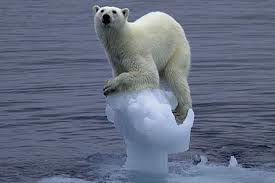 Of course he/she is sad. After all, due to man-made global warming polar bears, which have been around for 200,000 years, will soon be extinct, won't they? Well, not exactly. About 30 years ago there were only around 5,000 polar bears left, now there are over 30,000. In fact, there are so many in some areas that there isn't enough food for them all. The ever-increasing number of polar bears would be very surprised if you told them they would soon go the way of the dodo.