Here's a photo of a polar bear apparently stranded on a tiny ice floe due to man-made global warming melting Arctic ice:
This is the kind of photo ecofascists tend to use to warn us about the destructive results of their supposed "man-made global warming".
And here's a table showing the frightening decline in polar bear numbers due to man-made global warming. Whoops, sorry. Polar bears are thriving. Their population has shot up from somewhere around 5,000 in the 1950s to above 25,000 by 2005. Some experts even think there may now be 32,000 polar bears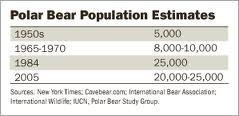 And here are 10 reasons not to worry about the survival of polar bears.
http://polarbearscience.com/2013/02/26/ten-good-reasons-not-to-worry-about-polar-bears/
In fact, the most drastic declines in polar bear numbers have been due, not to melting ice, but during periods when there was too much ice preventing them reaching their main food source – seals. And some experts believe the biggest threat to polar bears now is that there are too many all competing for the same food resources.
If the ever-increasing number of polar bears knew that all the handwringing, bleeding heart, misguided ecofascist greenies were predicting their imminent disappearance, I imagine they'd be rather surprised.