Most people probably aren't feeling too perky about their finances at the moment as we face yet another year of frozen salaries and rising prices. But the real "Big Squeeze" on our money is just about to get a whole lot worse.
For example, hidden away in the detail of Osborne's last budget are figures on the increases in tax revenues the Government is planning for the next few years (see figure)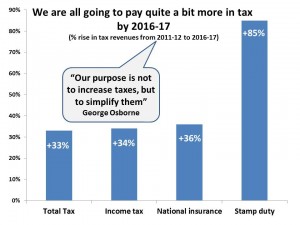 These are going to hurt most households. 
Then we have to take account of the rising interest costs of our ever-increasing Government debt. Brown and Balls "only" increased debt by about £400bn (from £320bn to £720bn) in 13 years wrecking our economy – the Coalition will push it up by another £700bn to over £1.4trn by the 2015 election. That will, of course double interest payments leaving over £30bn a year less to spend on public services (see figure)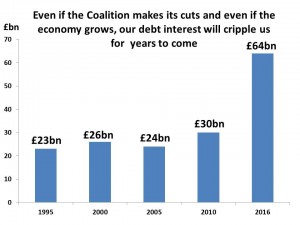 If you think you're being squeezed now, then in the words of Bachman Turner Overdrive "b-b-b-b-baby you ain't seen nothing yet..here's something you'll never forget".