Monday/Tuesday blog
Of course we don't know what's going to happen in the Israel/Palestine/Hamas imbroglio. And many more much more intelligent people than myself will speak and write millions of words about the situation. But I have a worrying suspicion that Hamas has already won. Here's why:
Whatever the Israelis do will be 'wrong'
The Israelis are caught between a rock and a hard place. They can't attack while supposed negotiations to free their citizens are supposedly ongoing. Yet the longer the Israelis delay, the more time Hamas have to prepare
Throughout the world, public sympathy is firmly with Hamas with many millions believing the Israelis deserved the October massacre of around 1,400 Israelis by Hamas subhumans
The Hamas attack has brought to the surface widespread anti-semitism where we have Australian mobs chanting "gas the Jews", Stars of David being painted on Israeli homes and businesses in Germany and massive anti-Israel protests in many other countries
If the Israelis do attack Gaza, every time a Palestinian is hurt or killed, Israel will be accused of genocide and there will be massive pressure on Western leaders to distance themselves from Israel's actions.
If Hezbollah, Jordan, Syria and even Iran decide to pitch in, hoping to finally kill all Israeli Jews 'between the river and the sea', it's difficult to see how Israel can survive
The situation in the West
Demographics:
there are 3.9 million members of the Religion of Incredible Peacefulness (ROIP) in the UK, but only 0.3 million Jews
there are 5.7 million members of the ROIP in France, but only 0.4 million Jews
there are 5.6 million members of the ROIP in Germany, but only 0.2 million Jews
there are 0.8 million members of the ROIP in Australia, but only 0.1 million Jews
there are 3.5 million members of the ROIP in the USA, however there are 4 million of Jewish heritage
Moreover, while the ROIP populations of most countries are increasing rapidly due to higher birth rates and open-borders immigration from the wordls' worst hell-holes, the populations of Jews are static or declining. Soon, the USA will be the only Western country where a political party can be elected while being supportive of Israel's right to exist. That doesn't bode terribly well for Israel's future as Israel will become increasingly isolated.
Ignorance and stupidity:
It seems that the same mobs of narcissistic, virtue-signalling, West-hating, oikophobic fools who demonstrated with such passion for the utterly corrupt BLM and who bleat and moan about the supposed coming climate catastrophe are also turning out in their hordes to protest for a free Palestine. The most ludicrous of these useful idiots are the LGBTQ+++ supporters of Hamas: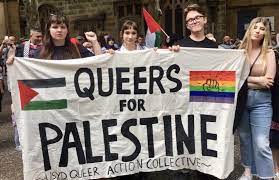 They seem to be unaware of what happens to people like them under radical ROIP governments. I could post a few videos here of homosexual men joining the Fallujah Flying Club with lifelong membership. That lifelong membership being the last 4-5 seconds of their lives as they are thrown from tall buildings with their hands tied behind their back and then their bodies are stoned just to make sure they see the error of their ways. But I'll spare you.
The West's societal suicide
There used to be an acronym used by economists – the BRICS – referring to Brazil, Russia, India, China and South Africa which were regarded as the fastest-growing developing economies. Perhaps we need a new acronym – the CRINKS – China, Russia, Iran, North Korea and South Africa? Our enemies – China, Russia, Iran, North Korea and South Africa (the CRINKS) – are uniting against the West, increasing their militaries and getting stronger. Meanwhile the West is impoverishing itself with the ludicrous Net Zero stupidity and tearing itself apart with the even more stupid culture wars – women can have penises, all Whites are inherently racist, diversity is our strength, there should be no borders and so on.
Third-world countries are watching a rising, self-confident, corrupt, democracy-loathing CRINKS and a declining, self-destructing, self-hating West and deciding which side to join. Many corrupt, kleptocrat-ruled, resource-rich but economically basket-case African countries have already enthusiastically substituted hard-won independence for subjugation to Chinese Belt-and-Road economic colonialism. Others have seen coups supported by Russian Wagner mercenaries. Most Third-World countries will choose to pitch in with the winners in the competition for global power. They will join the CRINKS and not the West. This will further isolate Israel.
Survival against the odds?
Israel has survived over 75 years almost miraculously turning a tiny patch of Middle-East scrubland into one of the world's most prosperous, democratic, scientifically-advanced and productive countries. But the population of Israel is just 9.4 million including 1.7 million Arabs. The Arab world population is over 456 million. There are 48 times as many Arabs as Israelis. And Israel is rather small compared to the land occupied by our Arabian friends. The surface area of Israel is a mere 22,145 km² compared to a massive 13,132,327 km² for the Arabian world: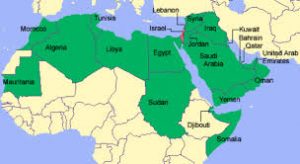 I wonder how many of those protesting against the supposedly 'evil' Israel actually realise how small and vulnerable Israel is?
In view of all this and more, I have a horrible suspicion that Hamas have won and Israel will not survive to reach 100 years.
As for the libtard, historically-ignorant, self-admiring, anti-semitic fools screaming their mouth-frothing support for Hamas, be careful what you wish for. Once Hamas and Hezbollah and ISIS and their chums have finished with Israel, they'll be coming for you: