Friday/weekend blog
In this blog I wanted to focus on two key developments in our world:
the rejection of Western liberal democracy by an increasing number of countries
the abandonment of Western liberal democracy by Western elites
The rise and rise of the BRICS++++++
We've all seen the rise of the unpronounceable acronym in the West culminating in the increasingly ludicrous LGBTQ++++. An acronym which will become increasingly important is BRICS. BRICS is a grouping of the world economies of Brazil, Russia, India, China, and South Africa formed by the 2010 addition of South Africa to the predecessor BRIC. In January 2024, BRICS — originally established in 2009 to represent the world's strongest emerging market economies — will add Argentina, Egypt, Ethiopia, Iran, Saudi Arabia and the United Arab Emirates (UAE) to its ranks. Though I doubt the acronym BRICSDAEEISU will be commonly used.
As BRICSDAEEISU grows this alliance will eventually rival the Group of Seven (G7) large industrial economies of the United States, European Union, United Kingdom, France, Japan, Italy, and Canada, which together are home to 16 percent of the world's population and account for 62 percent of the global economy.
Welcoming the new members in Johannesburg last week, Brazil's President Lula da Silva said their addition would mean BRICS would represent 46 percent of the global population and 37 percent of the world GDP. The expansion means BRICS now consists of some of the globe's largest oil producers: Russia, Saudi Arabia, UAE, and Egypt. Nigeria, another major oil exporter, is set to join when the bloc gets even bigger, probably at its next summit in Russia in 2024. That will make any acronym even more complicated.
The expansion of BRICS will have at least three results:
De-dollarization: the strength of the U.S. dollar is also partially based on the currency as underpinning oil trade—the so-called petrodollar—and members of OPEC (Organisation of the Petroleum Exporting Countries) settle their accounts in U.S. dollars. Therefore, enlarging BRICS to also include the oil producers and persuading them to use a new BRICS currency, rather than the U.S. dollar, to settle their accounts, will be a game-changer.It is likely to accelerate the de-dollarization of the world
Emasculating sanctions: the economically-dominant West has in the past had the ability to punish countries by imposing economic sanctions. AS BRICS++++++ get more powerful, any sanctions imposed by the West will become less meaningful
Rejection of the West's liberal democratic values: there is a lot of ill-feeling in developing countries against the West's perceived misuse of its power – attacking Serbia, Iraq, Libya, Yemen, Afghanistan etc. Few of the BRICS++++ are democracies and most reject Western liberal democracy seeing it as a failing system which is tearing itself apart.
The West's abandonment of democracy
Most Western governments have abandoned free market policies for redistributive welfarism – the state owns everything and you own nothing except what the state deigns to give you. Hence the idea of a Universal Basic Income. Western leaders have proved incapable of pivoting to a model anchored in freedom of conscience and human innovation. Instead they blather about the dangers of the disinformation age and "adjusting" to secular stagnation. All the while they have come to deeply fear a populace that is losing patience.
It is not unthinkable then, that with a little bit of persuasion from Big Tech, the West's impotent, terrified, self-serving, exhausted and spiritually-corrupt elites could be persuaded that the only way for them to maintain control over us and prevent populist uprising against their economically- and socially-suicidal policies is to further hollow out any semblance of Democracy and drive our countries further towards becoming surveillance states where governments own everything, only approved opinions are allowed and dissenting voices are debanked, persecuted and destroyed.
I think I have used a version of this image on a previous blog. Though here I have changed it slightly to put the Globalists, the WEF Davos crowd, the Big Tech billionaires and the multi-national bureaucratic organisations such as the UN and the WHO at the top: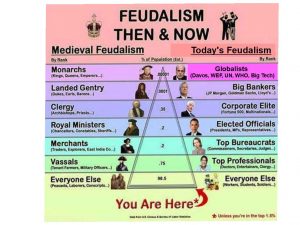 (left-click then left-click again to see the image in glorious widescreen technicolour)
As I have suggested in several previous blogs, I suspect that the relative freedom and democracy of the 1950s to 2010s, the years during which we have lived most of our lives, was an historical aberration – a brief period during which wealth was distributed more evenly between the ruling elites and ordinary people. That period seems to be ending as the elites consolidate ever more wealth and power under their control leaving us with ever less freedom and living ever more restricted, poorer lives:
Want to buy a cheap, efficient petrol car? Soon to be banned
Want to buy a cheap and efficient gas boiler? Soon to be banned
Want to take holidays? Soon to be discouraged using ever-increasing taxes on flights
Want to eat meat and dairy products? Soon to be increasingly expensive as farmers are restricted from producing food or even driven off their land as is happening in the Netherlands
Want to drive your car in a city? You'll have to pay congestion charges and ULEZ charges or even face complete bans on car usage in many places
Want to express an opinion about mass illegal immigration or the biological differences between men and women or whether human activities are causing catastrophic climate change or the benefits of multi-culturalism or the peaceful nature of the world's most peaceful religion? Expect the police to come knocking at your door
In fact, can you think of any way at all in which our elites are intent on making our lives better?