Wednesday/Thursday blog
Perhaps one of the most significant statements of 2023 made by one of our rulers came from the universally-respected United Nations Secretary-General, Antonio Guterres. In 2022 he warned us it was 'code red for humanity' due to supposed anthropogenic global warming: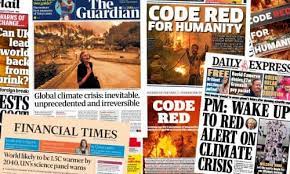 Then this year climate expert, Mr Guterres, upped the rhetoric when he claimed: "The era of global warming has ended; the era of global boiling has arrived."
This summer we've been told that July was the hottest on record and we've been deluged with reports of 'apocalyptic' wildfires in the Mediterranean, the U.S., Hawaii and Canada. So, perhaps Mr Guterres and the climate catastrophists are right? Perhaps we are all destined to die in a planetary fireball caused by our selfish use of CO2-emitting fossil fuels?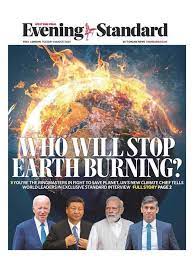 However, being a person of a slightly cynical disposition, I googled "2023 record cold". Here are just some of the results:
An astonishing -62.4°C was recorded in Tongulakh, Siberia on January 14th. In addition to becoming Earth's coldest temperature recorded in 2023, the all-time station record was broken in Tongulakh
On Feb 4, 2023, the Halifax airport in Nova Scotia saw its coldest wind chills ever recorded, with temperature plummeted to -43°C (-45.4°F). This tops its previous record of -41°C that was set on 13 February 1967 for wind chill. Many other places across Canada also set new daily records, with temperatures lower than -40°C.  On Feb 19, temperatures in Shepherd Bay, Nunavut dropped to -49.6°C (-57.3°F)
The United Kingdom on Tuesday, March 7, braved its coldest night of the year 2023 with the temperatures dropping to below -15 Celsius in several regions. According to Independent, a UK news portal, the British Met Office revealed that the temperature at Kinbrace in the Scottish Highlands was recorded at -15.2 celsius, making it the coldest March in the country since 2010
The summit of Mount Washington in New Hampshire reported a wind-chill low of minus 78 Celsius (minus 108 Fahrenheit) — the coldest temperature ever recorded in the United States. Meanwhile, the National Weather Service (NWS) in Caribou, Maine, said it received reports of "frostquakes." "Just like earthquakes, [they] generate tremors, thundering sensations. These are caused by sudden cracks in frozen soil or underground water when it's very cold,"
In Boston, where officials closed down the public school system on Friday due to the impending freeze, the low temperature hit -23C (-10 F), shattering the day's record set more than a century ago, the National Weather Service (NWS) said. In Providence, Rhode Island, the mercury dropped to -23C (-9F), well below the previous all-time low of -19C (-2F), set in 1918. The arctic blast flowing into the US from eastern Canada also brought record lows to Albany, New York; Augusta, Maine; Rochester, New York; and Worcester, Massachusetts, among other places
Sydney experienced its coldest June morning on record on Monday, with a minimum temperature of 1.8C at Olympic Park, according to Miriam Bradbury, a senior meteorologist at the Bureau of Meteorology. If you thought the temperatures this month were a little chillier than normal, your feelings are spot on. May 2023 was, as meteorologists might say, really cold. In fact, more than 100 weather stations across Australia have registered their coldest May minimum temperatures on record – with regular frosts, snowfall, and below-average rainfall to boot
Thursday 1 June saw potentially the lowest June temperature on record in Finland. A weather station in Lapland, Enontekiö Kilpisjärvi Saana, reached -7.7C. This may not seem that cold for northern Finland, where winter temperatures reach as low as -51.5C, but the last time Lapland saw a minimum temperature of -7C in June was on 3 June 1962

Extreme cold has arrived abnormally early in Antarctica, with temperatures dropping to below -75°C from the beginning of May. 

Following the onset of polar night, winter has started at the South Pole, and with it glacial cold at the Russian research station of Vostok

. As early as May 5th a low of -75°C was recorded, while just days ago this fell further to -76.4°C. 

This marks a new record for the early winter, daily highs are also plummeting, often just below -70°C on the Earth's coldest continent

A sudden and unexpected surge of cold Arctic air has engulfed several regions of South America, shattering numerous cold records in its wake. Although it is currently summer in the southern hemisphere, including parts of South America such as Argentina, Chile, Uruguay, and parts of Brazil, some areas have experienced a drastic and rapid shift in weather, going from a heat wave to frost in less than a week. On February 18, 2023, most of the cities in Paraguay experienced a sharp drop in temperature, breaking their previous records for minimum temperatures. The temperatures ranged between 7 and 16°C (44.6 – 60.8°F) across the country, with the lowest readings recorded in the southeast. The lowest temperature was 7.7 °C (45.9 °F), which is just 0.7 °C (1.2 °F) from the national record low for the month of February. The extreme cold weather caused at least 30 cities in Argentina to break their monthly cold records on the same day
I think that covers most of the Earth's continents. In fact, I suspect that whichever weather phenomenon you chose – hot or cold, wet or dry – I imagine that if you googled that weather condition and the words '2023 record', you'd find several places on our planet which had record levels in 2023.
I must be getting old and my memory must be failing. While I get the impression we have been bombarded with horror stories about wildfires and an overheating Earth, I can't remember the BBC or C4 News or any other parts of the mainstream media spending as much time and effort reporting these record cold temperatures as they have spent hyperventilating over their many stories of supposed 'record hot temperatures' and 'Earth on fire' supposedly caused by man-made global warming.
Could our net-zero-obsessed rulers and their sycophantically-obedient mainstream media be trying to manipulate us into cravenly accepting our own supposedly 'climate-saving' impoverishment? Surely, not!